Adults For Sale

Occasionally we will have adults for sale.

The reasons are numerous for these wonderful dogs to be available...

The dog may be ending its breeding career and needs a loving forever home.  Sometimes we need to downsize a bit to keep the number of dogs living in our house at a manageable level.

Some times we will hold out a puppy only to find out it does not meet our high standards.

There is usually nothing wrong with the dogs we offer for adoption. If there are any issues, we will certainly let you know.  We want you to have a wonderful companion, but at the same time, we want you to be completely informed about any health or behavioral issues that might be present.

We are very particular about where our adult dogs go.  They have been our pets and we want to assure that their new owners will care for them, spoil them and pamper them as much as we have here.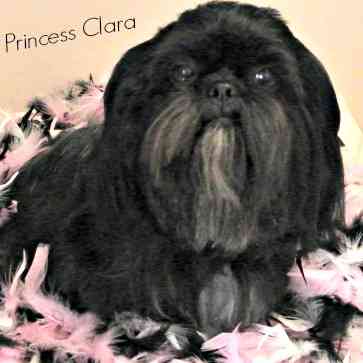 Miracle's Princess Clara
Clara
Clara is a 5 year old black Shih Tzu who has given us many wonderful puppies.  She now weighs about 13 pound and is being retired from our breeding program. 
She is doggie-door trained.  She is quiet, a little shy but very loving.  The best home for here would be with a single woman or couple, or family with older children.
She is very healthy, but has had some reproductive issues which will be resolved with a spay operation.

She will come to you up to date on all shots, will be wormed and is microchipped.  She will be spayed before leaving here. 
Asking $300
ON HOLD

---
Miracle's Sir Fletcher
Fletcher
Fletcher is Clara's brother and have been together since birth.  They both flew here to Ohio from Texas and get along very well together.  Fletcher has been a great little addition to our breeding program and has produced many black puppies.  He carries the non-fading black genes as well as livers.  We are retiring him because of downsizing.  He will be neutered before leaving here. 
I may consider full AKC rights to the right small breeder at a higher price.
$300 with neuter operation
$900 Full AKC rights without neuter (DNA available)  We can also provide OFA eye check done by a veterinary ophthalmologist if requested.

---
Zoey of Zion from Shih Tzu Factory, Texas
Zoey
Zoey deserves a forever home.  She has produced many wonderful puppies both for us and her previous breeder.  She an older lady but was once a  show dog.  She has a sweet temperament and the ultimate lap dog. She is housebroken but will not use a doggie door.

She would do best in a family as an only dog so she can shine as the diva she is. 
She is healthy, but only has one eye which doesn't seem to bother her in the least. Zoey will be vet checked before she leaves here.  She is already spayed, up to date on shots, wormings, on heartworm preventative and has been microchipped.  If you feel you can give this senior a good home, please contact us.
Asking $300, but maybe negotiable to the right person.

---
Advantages to Adopting an Older Dog

There are advantages to adopting an older dog:
They have passed the crazy puppy stage and are settled, calm, and make excellent pets.   

They are usually trained, housebroken, doggie door trained and respond to basic commands.   

They are up to date on all vaccines, wormings, heartworm medication and have been vet checked.   

We know a great deal about their personality, temperament, habits, likes and dislikes and we will be completely honest with you in this regard.
Feel good about adopting

Frequently Asked Questions
About our Adults for Sale

Is there something wrong with the dog?
Generally no, but if there is a problem we will let you know. 

Can I purchase the dog for my small in home breeding program?
Occasionally we will have dogs available for select homes.  Dogs that should not be breed will be spayed before leaving our home.

Are adult dogs free or cheaper than puppies?
Adoption fees hep to cover the cost of veterinary fees, spay, neuter, dental work, or whatever the particular dog may need.  If you prefer to have these done at your own vet, we can make arrangements. We prefer for our adults for sale to be adopted to homes ready to care for a middle age to senior age dog. 
If a dog is purchased for breeding purposes, there will be an additional fee.

Do adult dogs come with papers?
Unless you have been approved as a small in home breeder, you won't need registration paperwork.  But, we will provide them if you like.

Contact Us if you are interested in an Adult Dog

Tell us what you are looking for and we will let you know if we have the perfect companion for you.  Please provide as much information as you can.

Advertising on this Site
Miracle Shih Tzu is a participant in the Amazon Services LLC Associates Program, an affiliate advertising program designed to provide a means for sites to earn advertising fees by advertising and linking to amazon.com  This site receives a small commission from all affiliate links and third-party advertising.

Like and Comment
Was this information helpful?   
Did you like it? Do you have a comment to share? 

Just leave a comment below, and click like or share to let others know about this site. 
Thank you so much.  I really appreciate your input.
Have a Question that Needs an Answer?
I am not always able to respond directly to your posts below
so if you have a question specifically for me, please use my contact form.  Thanks.