Available Puppies from Miracle Shih Tzu

PUPPIES!  Last Updated October 3, 2016

Haven has two healthy puppies, one boy and one girl.  They were born September 3, 2016 and pictured below at 6 days old.  Haven is an AKC registered Maltese and Doc is our AKC Registered Shih Tzu.  This litter is a Shih Tzu - Maltese mix or Mal Shi.

For information on our other current litter, please go to Puppies For Sale Page.
If you are interested in either of these two puppies, please use the form below to contact me.
Click on any picture below to see a slide show.

Barbie Hold for Carolyn

Maltese and Shih Tzu Hybrid  $700

---
Ken:  Hold for Jeff

Maltese and Shih Tzu Mix   $600

Sales Tax on Puppies:  Attention Ohio Residents

NEW:  The state would like their share.  It has come to our attention that we must collect Ohio Sales Tax for all puppies we sell to residents of Ohio.  We live in Summit County and the tax rate here is 6.75 percent.  If you purchase a puppy from us and live in Ohio, please add sales tax to your total purchase price.

---
All puppies go home with our Puppy Package that includes
Food Sample
Toys and Chews
Paperwork  (Registration paperwork for purebred dogs)
Health certificate from our vet
Shot records that include worming meds and dates
Vitamin/Supplement Samples
New blanket that has Mama and Sibling scents

Life long support
Other (such as chew bones, poop bags, puppy pads, etc.  "for the road."

---
Additional Information

Since we are a small in home breeder, we do not always have puppies available, but should be able to tell you about future planned matings.


All of our pure bred puppies are registered with the American Kennel Club (AKC) and offered with Limited AKC paperwork for the price listed. 


If you are a small in home breeder and would like full AKC registration, we may be able to offer it to you.  Please use the contact form to inquire about full AKC registration.  Normally we charge an additional $ 300 for full AKC.

All available puppies come to you up to date on vaccinations and wormings. In most cases, dew claws are removed. 


Puppies are socialized from day one and started on potty training when ready. 


Our free puppy package to you includes a bag of food, several toys and chews, and a sweet Mama scented blanket and all necessary paperwork. 

More Information from Miracle Shih Tzu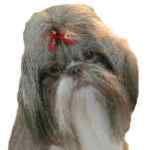 The Mamas

The Papas
Advertising on this Site
Miracle Shih Tzu is a participant in the Amazon Services LLC Associates Program, an affiliate advertising program designed to provide a means for sites to earn advertising fees by advertising and linking to amazon.com  This site receives a small commission from all affiliate links and third-party advertising.

Like and Comment
Was this information helpful?   
Did you like it? Do you have a comment to share? 

Just leave a comment below, and click like or share to let others know about this site. 
Thank you so much.  I really appreciate your input.
Have a Question that Needs an Answer?
I am not always able to respond directly to your posts below
so if you have a question specifically for me, please use my contact form.  Thanks.