Moose as he faded
by Sarah
(Franklin, WI)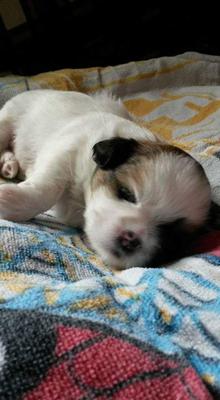 Moose was born of a black and white mother and a gold and white father. He was born and listed as tri color. As he got older, the beautiful patch over his eye faded and any other brown markings lightened to an almost blonde color. After each hair cut we notice more hold spots along his back. Oddly enough his skin has black patching throughout.

--------------------------------------------
Hi, Janice Here From Miracle Shih Tzu
--------------------------------------------

Thank you so much for posting, Sarah. Your photos are a great example of the many changes that Shih Tzu dogs go through as they mature. I love the way you have posted pictures that illustrate this progression. I know that your post will be very helpful to those who find these changes very surprising.
Advertising on this Site
Miracle Shih Tzu is a participant in the Amazon Services LLC Associates Program, an affiliate advertising program designed to provide a means for sites to earn advertising fees by advertising and linking to amazon.com  This site receives a small commission from all affiliate links and third-party advertising.

Like and Comment
Was this information helpful?   
Did you like it? Do you have a comment to share? 

Just leave a comment below, and click like or share to let others know about this site. 
Thank you so much.  I really appreciate your input.
Have a Question that Needs an Answer?
I am not always able to respond directly to your posts below
so if you have a question specifically for me, please use my contact form.  Thanks.