Home > Shih Tzu Puppies for Sale
Shih Tzu Puppies for Sale : 
Lucy and Ketchikan

Shih Tzu Puppies for Sale was last updated on March 23, 2017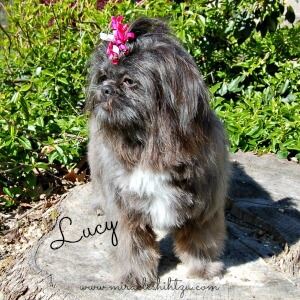 Lucy is our 12 pound Blue Shih Tzu girl, with a heart filled with love and devotion and exceptional skills as a mother.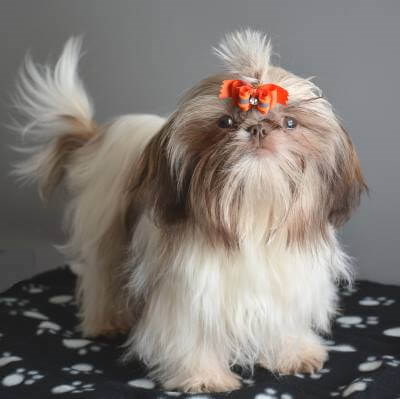 Ketchikan is our 5-pound liver and white Shih Tzu dad. He is truly my little shadow and the ultimate lap dog.
---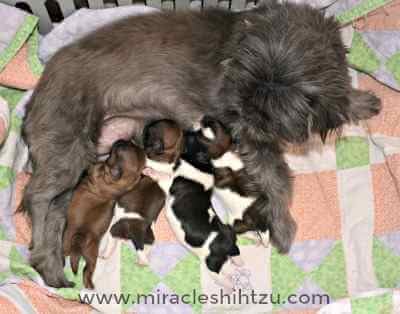 Lucy had four babies, 3 boys and one girl on February 22, 2017.  If interested in any of these current puppies, please contact me for further information.  Puppies are sold on a first-come basis to approved homes.  Price is for AKC Limited Registration.  These puppies may be offered for full AKC rights for an approved breeder.  
Ohio residents, please add sales tax at a rate of 6.75% to the total cost of the puppy.
Girl:  $850 Limited AKC
Boys:  $800 Limited AKC
Jewel - HOLD
Four Weeks Old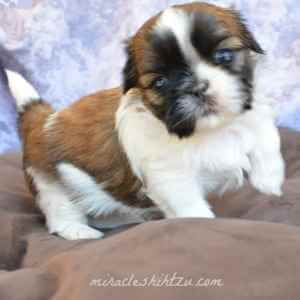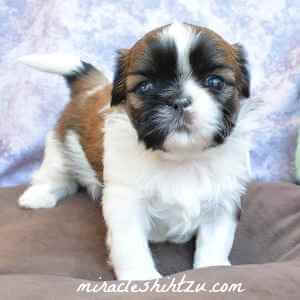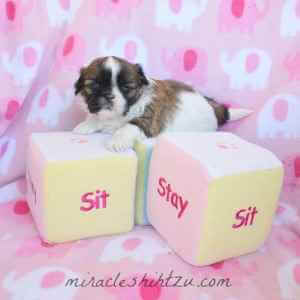 ---
Otto - HOLD
Four Weeks Old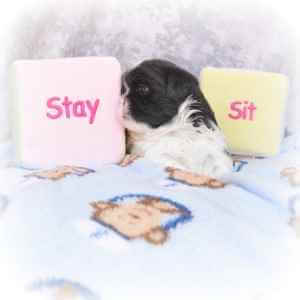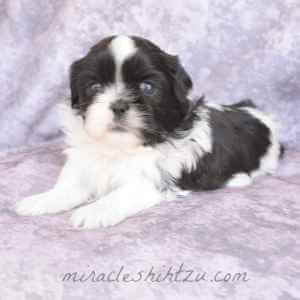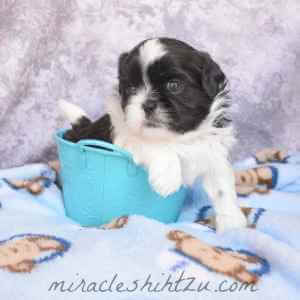 ---
Findlay - HOLD
Four Weeks Old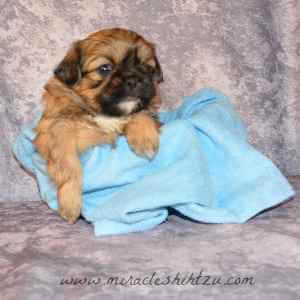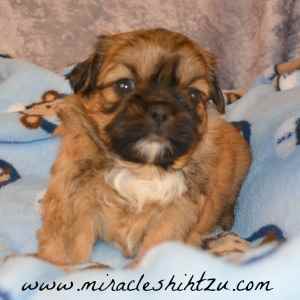 ---
AtzLee - HOLD
At four weeks old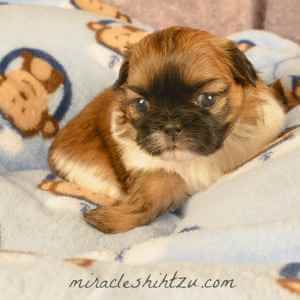 More Information on Our Shih Tzu Puppies

Serious Puppy Buyers, Please Read...

Any Shih Tzu Puppies for Sale will come to you up-to-date on vaccinations and wormings.  Any health concerns are dealt with prompt and no puppy is allowed to leave here unless he/she is healthy.
Puppies are socialized from day one and started on potty training when ready.  Please see our breeding program for more information (See Below).


The earliest that any puppy may leave here is eight weeks old.  We often hold puppies a little longer, especially if they are extra small.


Our

free puppy package

to you includes a bag of food, several toys and chews, and a sweet Mama scented blanket and all necessary paperwork.  


We offer a life-time support for your puppy and will be here to answer questions, provide information and suggest resources.


If you would like to read our puppy buyer's contract, prior to contacting me,  you can down load it here.  The contract is new, so if you have purchased a dog from us previously, you may see that we now offer up to a 2 year full replacement on our puppies, as long as all the terms and conditions of the contract have been met.

If you would like to see pictures of our parents, please visit our Mama's Page and our Papa's Pages.


We feed Life's Abundance All Life Stages Dog Food.  Please visit their website and order a bag before you pick up your puppy.


We encourage you to place your new puppy on a supplement that includes natural antioxidants, herbs, minerals and vitamins.  It is intended to strengthen the immune system but it does much more.  Visit NuVet Plus and use the code:  24352


Since we are a small in-home breeder, we do not always have puppies available, but should be able to tell you about future planned matings, if you are interested.  Use the contact form below to inquire.


Rarely, we have hybrid or Designer Dogs available (Mal-Shi).  These are few and far between. 


All of our pure bred puppies are registered with the American Kennel Club (AKC) and offered with Limited AKC paperwork for the price listed.  Occasionally we sell to small in home breeders (like ourselves) and offer Full AKC registration for an additional charge.


Occasionally we have adults for sale.  Please use the contact us page to request information on dogs that might currently be available.  


We highly recommend that you check out the pages below to learn more about us.  Since our time is limited, and we are not a pet store, please, serious inquiries only.  Thank you for your consideration.

---
More Information About Our Shih Tzu Puppies For Sale

---
Interested in More Information about a Miracle Shih Tzu Puppy?

---
Advertising on this Site
Miracle Shih Tzu is a participant in the Amazon Services LLC Associates Program, an affiliate advertising program designed to provide a means for sites to earn advertising fees by advertising and linking to amazon.com  This site receives a small commission from all affiliate links and third-party advertising.

Like and Comment
Was this information helpful?   
Did you like it? Do you have a comment to share? 

Just leave a comment below, and click like or share to let others know about this site. 
Thank you so much.  I really appreciate your input.
Have a Question that Needs an Answer?
I am not always able to respond directly to your posts below
so if you have a question specifically for me, please use my contact form.  Thanks.