Cute Yorkie Poo Puppies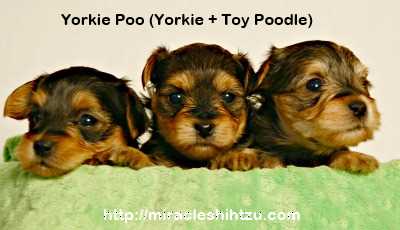 Charming Yorkie Poo Puppies caught on tape while making it through their day.  Put yourself in the mind of a tiny new puppy. 
Everything is exciting, everything is new, everything out there is waiting to be discovered, investigated and understood.  That is no small task for tiny puppies who have only been alive a few weeks. 
See how they do it. 
View Cute Yorkie Poo Puppies, Now

People often ask how we make our videos, so I thought I'd take this chnce to tell you a little about the process. Sometimes it is a family affair and sometimes, it is just a solo project that I put together.  The Cute Yorkie Poo Puppies Video was a collaboration between my daughter and myself with my daughter doing most of the work.  Elizabeth, then 16, video taped, edited, added subtitles, and then uploaded the video. 
I, (Janice) sketched out a rough storyboard of scenes to include, helped with lighting, and basically tried to choreograph it all.  Anyone who has ever tried to photograph a very young puppy knows that anything can happen, so we're always prepared to be surprised.
Elizabeth uses a Canon Power Shot SX30 IS for her videos and the I-Movie software built into her Apple Laptop.  I (Janice) use a simple Nikon 1 J1 for video and the Windows Live Video Maker which comes free on a PC.  I am a long time PC lover and Elizabeth can't function without her Apple. We are both self taught--no college level or continuing education on cinematography or photography.  We learn through trial and error.
How do the puppies do what we want them to do?  The simple answer is they don't.  They have their own agenda and so we go with what we get.  They are too young to train except for the most basic commands and even there, their attention spans are split second. 
We film a lot.  Some shots turn out but most of the footage we take is just discarded.  That is why it is important to edit, edit, edit. 
Many of my puppy buyers ask why we don't film each puppy.  There are many kennels that do but their videos are all very similar.  We feel it is more important to use our time interacting with the puppies and welcoming guests to our home where they can view the puppies first hand. 
Filming and editing takes time.  Patience is necessary because you never know how the puppies are going to react.  The shyest puppies become hams in front of the camera and the most outgoing ones just freeze.  We try never to film in an area that the puppies have not experienced before.   But, sometimes we want to capture that "first" so we take a chance.  If it doesn't work, that shot is discarded and we go on. 
As you can see, there is no fancy formula to making videos, just persistence and patience. 
Cute Yorkie Poo Puppies

Advertising on this Site
Miracle Shih Tzu is a participant in the Amazon Services LLC Associates Program, an affiliate advertising program designed to provide a means for sites to earn advertising fees by advertising and linking to amazon.com  This site receives a small commission from all affiliate links and third-party advertising.

Like and Comment
Was this information helpful?   
Did you like it? Do you have a comment to share? 

Just leave a comment below, and click like or share to let others know about this site. 
Thank you so much.  I really appreciate your input.
Have a Question that Needs an Answer?
I am not always able to respond directly to your posts below
so if you have a question specifically for me, please use my contact form.  Thanks.