Hello and Welcome to the Tiny Tzu Tips: Miracle Shih Tzu Newsletter


Welcome to Tzu Tips
March 2016
In my part of the of world, we are beginning to see the signs of Spring approaching. This is always a welcome sight, but with it comes mud puddles, rainy days, and anxious puppies eager to use all their senses to investigate the great outdoors.
---
Safety Tips
Don't forget to think safety first. There will still be some remnants of road salt on sidewalks. This can be a health issue if your dog loves to lick paws after going outside.

Keep a box of wet wipes handy to clean off the pads of feet when they enter the house.
---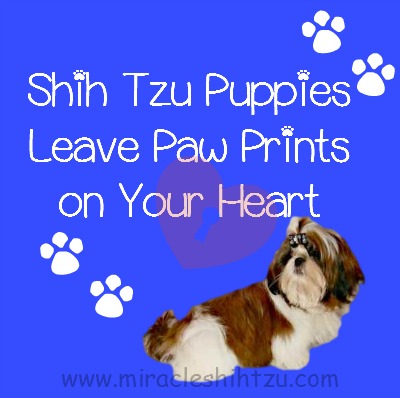 ---
Love Surveys?
Some do and some don't. I often think of them as a necessary evil. But at Miracle Shih Tzu, we try to make it fun. What's your favorite activity to do with your Tzu? Where does your Tzu sleep? What's his most annoying behavior? Check out our surveys and then see what others are say. It might surprise you.
---
Inguinal Hernias in Shih Tzu
While the Umbilical hernia is almost ubiquious in the breed, hernias that occur in the groin area or Inguinal canal are relatively rare. They do occur and something you should be aware of if you are in the market to purchase a new puppy.
---
Dog Product Reviews
From time to time, I find a great product that I think might interest other Shih Tzu owners. I'm betting you might know of a product or two that works well with this breed.
As I discover new products, I will add them to this page, but I'm hoping that you will contribute too. You can read what I recommend, what others recommend, and then add a suggestion of your own, if you care too.
---
Puppies Available - Puppies Expected
We have a new litter of Mal-Shi Pups born on March 7th to Haven (Maltese) and Toby (Shih Tzu). Both are boys and look just like their dad with a little longer nose. They will turn 8 weeks on May 2, 2016.
We're expecting a litter of Shih Tzu puppies on or around April 5th through 8th. Mom is Bebe our liver colored girl and Dad is Toby, our Brindle Boy who has a black mask. Several people have already inquired about this litter, but I do not like to take deposits until the puppies are here.
---
Rainbow Bridge
Have you noticed that we have added a page on our website where you can pay tribute to your beloved Shih Tzu that has passed on?
We all have such fond memories of our friends and even if their passing was yesterday or years ago, there will always be a hole in our heart.
Why not remember them by visiting the page and telling their story. There is also a place to add a few pictures. You can also comment on others' stories or pass on your condolences.
---
Testimonials and Your Shih Tzu Stories
If you are a past puppy buyer and want to tell us about how your new puppy is doing, you will want to go to the testimonial page. This page is not just for testimonials, but for your stories as well.
---
If you have ever shared your home and life with a Shih Tzu dog,we want to here your stories, too. It doesn't matter where the dog came from (breeder, shelter, rescue or other), it is always nice to share notes and stories.

Remember, anything you share should be in good taste, original and of sufficient length to make a web page. Feel free to add some pictures too. Everyone loves photos!
---
Miracle Shih Tzu Blog
We may have added some new pages since you visited us last. Visit our blog to see if you missed anything. We add pages frequently, or at least as often as we can (that is in between, caring for, grooming, training, and everything else that goes along with living with as many dogs as we do.)
---
My Other Websites
Did you know that I have two other dog related websites? Sometimes if you can't find the information you need on Miracle Shih Tzu, you might find it on one of the other sites.
No material is duplicated so please check us out.
Small Dog Place Small Dog Place
---
Dog Breeds Expert Dog Breeds Expert
---
Thanks for reading,

Janice
---