Hello and Welcome to the Tiny Tzu Tips: Miracle Shih Tzu Newsletter


---
Quote of the Month
Whoever said Diamonds are a Girl's Best Friend, Never Owned a Dog!
---
Tip of the Month
For a quick and inexpensive way to clean your dog's ears, use a little of undiluted distilled white vinegar on a cotton ball and swab gently inside the ear. If redness or irritation are present, do not use the vinegar and call your vet.
---
Articles
Fletcher Gets a Shih Tzu Haircut Makeover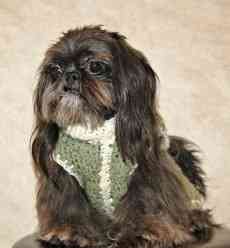 Fletcher, our black Shih Tzu boy was looking bad, even with brushing and bathing using a high quality shampoo or conditioner. He needed grooming which meant a haircut. But, the temperature outside was a balmy 20 degrees and I didn't want him chilled. What to do?

I decided to give him a quick haircut, face trim, sanitary cut and leave his legs full and feathered. It worked and with the help of a new sweater, he is feeling snugly warm.

This is an easy clip you could do at home or ask your groomer to do this for your little one the next time they need a grooming.

To do the trim, I used a pair of clippers with a #30 blade and a 1/2 inch clip-on comb. Starting on the top of his head, I ran the clippers down his head, across his body and to the tip of his tail. I did this all over his back, sides and chest. I also used this size blade in front and in back of his ears, leaving his mustache and beard to be scissored later.

Next, I switched to a number 10 blade and cleaned up the insides of his hind legs, his rear and did a quick sanitary clip around his "privates."

Using a pair of straight shears, I trimmed his beard and mustache even and removed any stray hairs with the number 30 blade/clip-on comb. I also used a pair of thinning shears to smooth out any areas that seemed to just "stick out."

We finished off with a nail trim, trim on his paw pads and then a cozy bath. The day at the "spa" paid off for him, because he can never resist the yummy treats that await him after his groom.
---
Teach Your Dog to Spin
Need a fun trick to impress your friends? Why not teach your dog to spin? While not on the "must know" list, it is a way to bond with your dog and have fun at the same time.

Start with your dog in a standing position. Show her a food treat in your hand.

Move your hand slowing towards the right so she must follow the treat in a tight circle.

If she completes the turn (that is gone 360 degrees), mark it with an emphatic, YES and give her the treat.

Repeat a few more times.

If your dog has problems with this trick, make your circle larger.

Visit our website for more information on training.

Watch Our Dog, Smores Spin in this cute Puppy Video.
---
Doggie Recipies
Quick & Easy Training Treats
Here's a Quick Treat you can use when Training your Small Dog.

Ingredients: 2-all natural chicken hotdogs

Directions: Slice the hotdogs lengthwise into 4 equal parts. While holding all four pieces, slice into slivers horizontally.

Wrap little pieces in a paper towel to press out any liquid. Spread on a paper towel and microwave for about 2 minutes. Check for crispiness. Microwave an additional 1 to 2 minutes to reach your desired crispiness.

Keep in refrigerator until needed.
---
Puppies!!
We Have Puppies
We were blessed with a small litter of Shih Tzu, Yorkshire Terriers, and Malti-Poos all born in December, 2013. Visit our website for pictures of the newborns.
---
Miracle Shih Tzu Blog
We may have added some new pages since you visited us last. Visit our blog to see if you missed anything. We add pages frequently, or at least as often as we can (that is in between, caring for, grooming, training, and everything else that goes along with living with as many dogs as we do.)
---
Thanks,

Janice