Available Shih Tzu Puppies in NE Ohio
Available Shih Tzu Puppies in NE Ohio
Available Shih Tzu Puppies in NE Ohio    by Janice Jones     |Updated 10-26-2022
Are you ready to meet your new best friend?  When puppies are available, you will find them listed here along with some key facts.  Take a look and if interested, please contact me with your questions.
April and Toby's Last Litter:  SOLD
Jack is the last of his line, a pure Beanie baby sired by Toby who has now been neutered and retired.  He is the last of his kind:  A special baby that has all the characteristics of Toby, a sweet natured, totally loyal boy and his mom, a happy go lucky female who loves everyone.  I held him back for breeding purposes, but he is too large for my current females.
He is being reduced for quick sale, and the price includes full immunizations including  rabies along with heart worm medication for the next six months.  The only thing left to do is neutering and repairing his small umbilical hernia.  Please contact me if interested.  I'm asking $600 for him which is a steal for the best family.
SOLD
Princess Leia and Beau:  AVAILABLE
Leia had two babies, one of which is now in a forever home but there is still one available.  Meet Leia's little man born August 25, 2022. He is black with a small amount of white on his head and chest.  When outside in the sun, his coat shows brown highlights.  The roots of his hair are also light, which means he may turn to be a silver as he gets older.  (Mom is white and Dad is Black and White) He's had his shots and wormings, and microchip inserted so he's now ready to go home.
$1200 which includes the Ohio State Sales Tax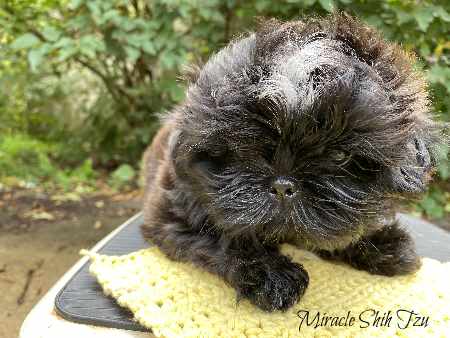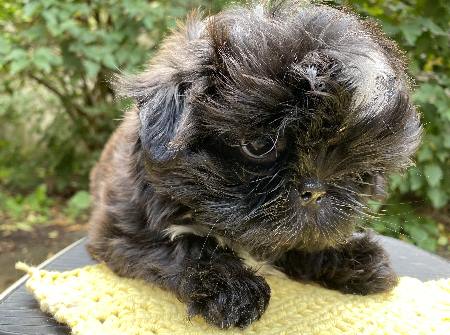 Rosie's Black and White Male:  SOLD
Rosie (lavender color female) mated with Beau (black and white male) and produced three kids.  This one is black and white and it appears that these colors will remain throughout the puppy's life, just like his dad.  He was born July 30th, and will turn 9 weeks on October 1st which would be the first day that he could go to his forever home.
$1200 which includes the Ohio State Sales Tax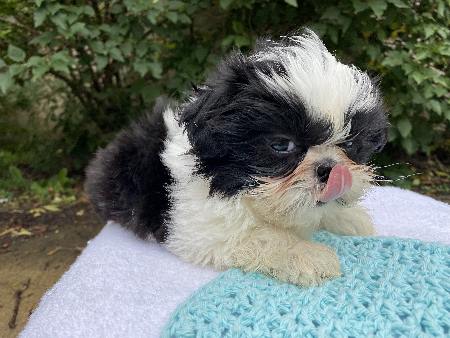 Cherry's Gold and White Boy:  SOLD
Cherry's litter was born on August 7,  2022 and will be available to go home on or after October 9th, 2022.    This little boy is likely to be a gold and white male with black markings making him a tricolor male Shih Tzu.  Dad is Beau who is a black and white male and mom is a liver and white Shih Tzu female.  
$1200 which includes the Ohio State Sales Tax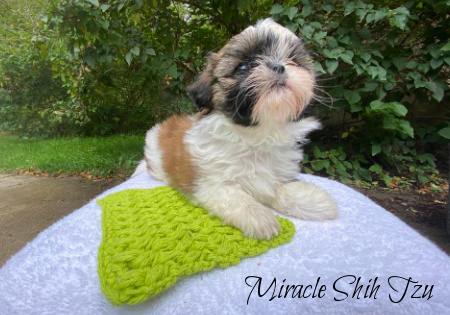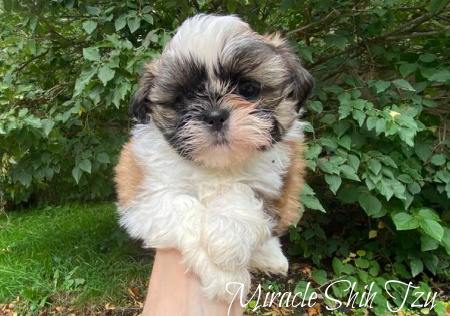 Ruby's Black and White Male:  AVAILABLE
One black and white Shih Tzu male is still available from Ruby and Beau litter born on August 13, 2022.  He will come to you with his first set of shots, wormings, and microchip along with the puppy package that includes a mama scented blanket, food, toys, and supplements, along with the health guarantee, and vet visit.  See more about our puppy package, and how we socialize our puppies prior to releasing them to their forever homes.