Home › › Available Puppies: Shih Tzu Nursery
Available Puppies from Miracle Shih Tzu

Available Puppies from NE Ohio was edited on November 26, 2018
Click on any of the links below to go to the individual nursery room pages.
Gabby's Nursery (Scroll down)
UPDATES on Future Litters
Cherry: Mated with Timi who became an overnight hit with the girls.  She is due around the third week in November
Lilah:  Didn't want to miss all the fun.  She only mated once, so we're waiting to see what happens.
Gabby's Nursery
Gabby gave birth to five puppies on Saturday, October 27, 2018, 3 girls and 2 boys.  It's too soon to identify colors, but several appear to be a red brindle and two of the girls have black hair color, but their noses appear to be blue.
Gabby is the Mom and Obi is the Dad.  Both mom and dad are about 10 pounds and puppies are likely to be in the 9 to 11 pound range as an adult.  Individual pictures coming soon. 
Gabby is a red brindle Shih Tzu Mom weighing 10 pounds.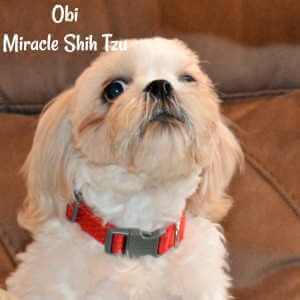 Obi is a Gold and White Male Shih Tzu weighing 10 pounds.
One day old Shih Tzu puppies from Gabby (mom) and Obi (dad)
Take a look and if one or more appeal to you let me know.
And, also, may the force be with you
Available Puppies
Amee  - Female Shih Tzu - Available
Newborn Amee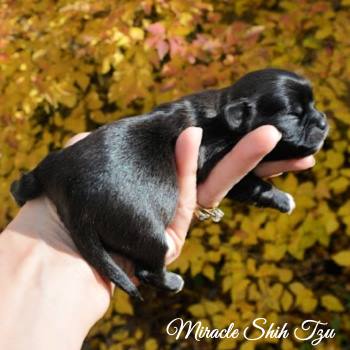 Shih Tzu Puppy, Amee, one of Gabby and Obi's girls.
Amee, Shih Tzu Girl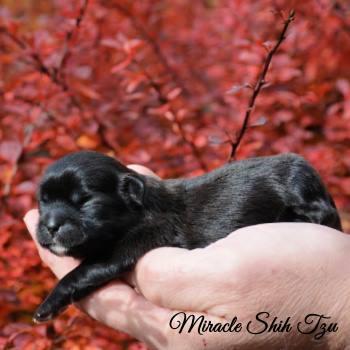 Amee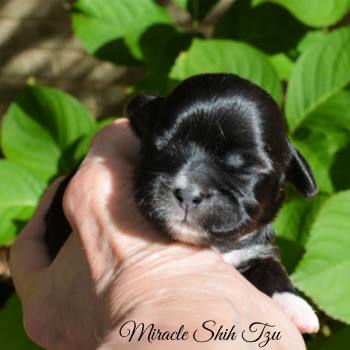 Gabby and Obi's Amee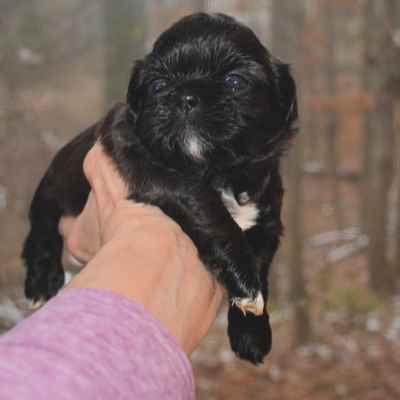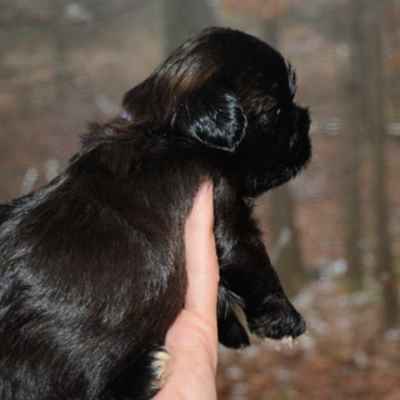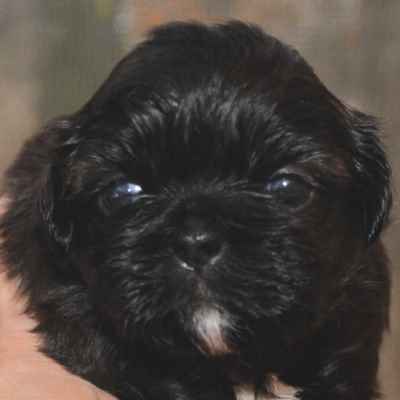 Leia - Female Shih Tzu - Available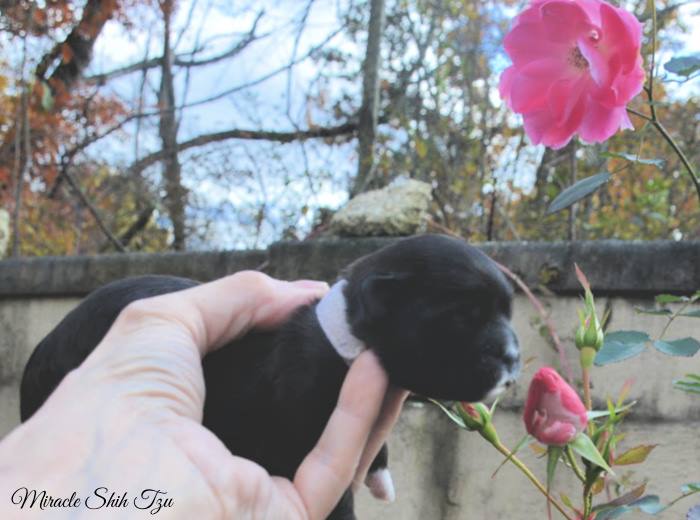 Yes, that is a real rosebud blooming in northern Ohio in November.
| | |
| --- | --- |
| Leia, Shih Tzu Female Puppy | Leia |
Leia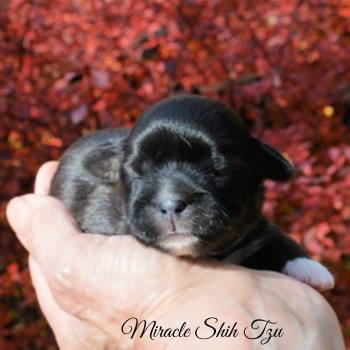 Leia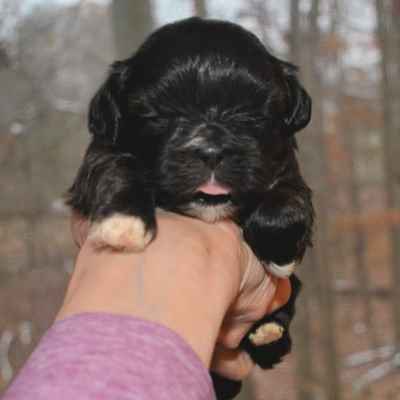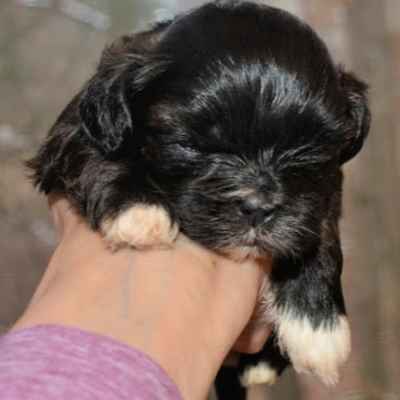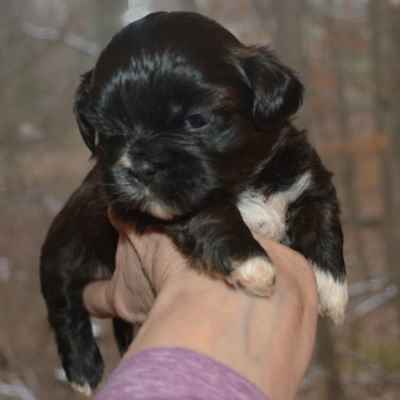 Mina - Female Shih Tzu Puppy - Hold for Brittany
Newborn Mina
At Three Weeks Old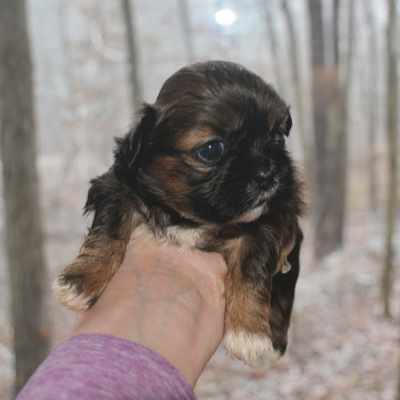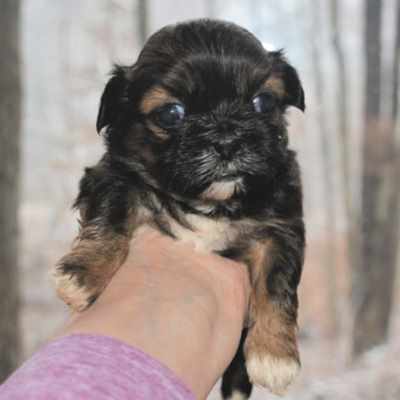 Luke - Hold for Mindy
Newborn Luke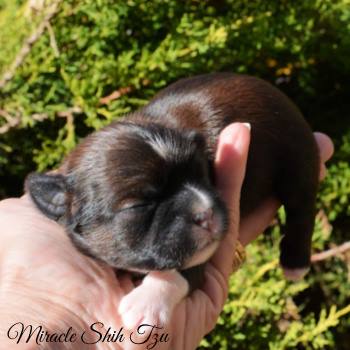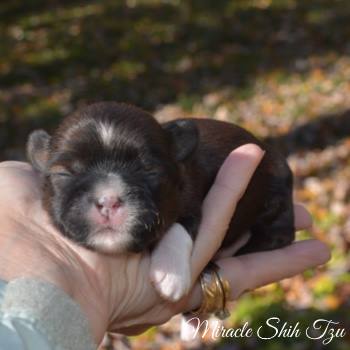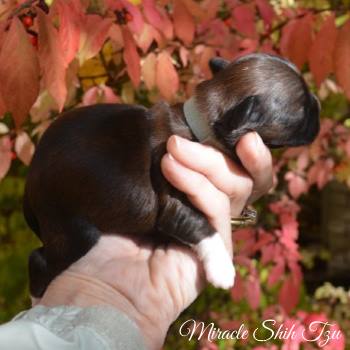 Luke after his ears and eyes opened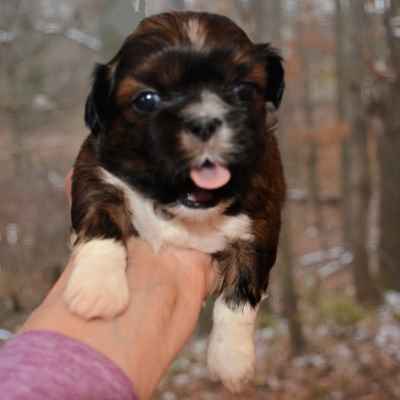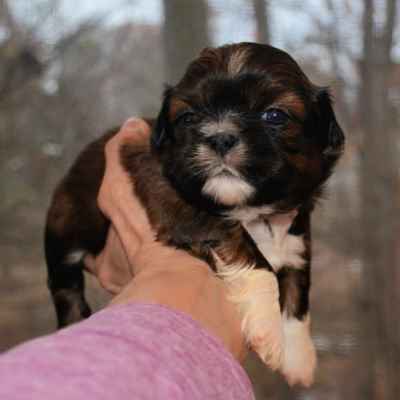 Hans - Available
Hans as a Newborn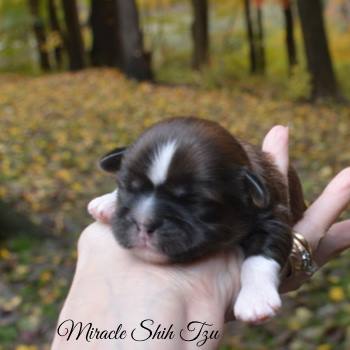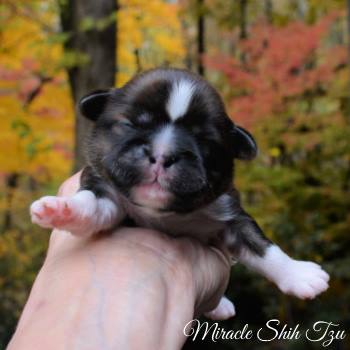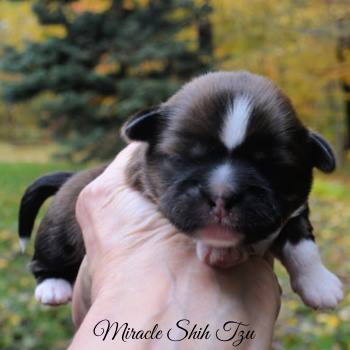 ---
Hans After Opening His Eyes and Ears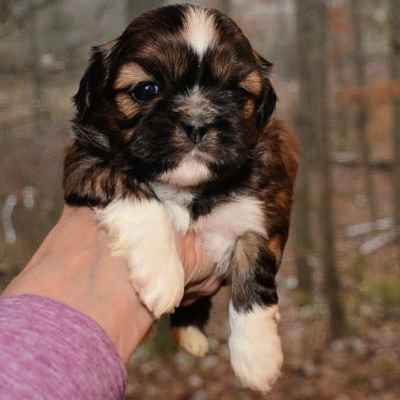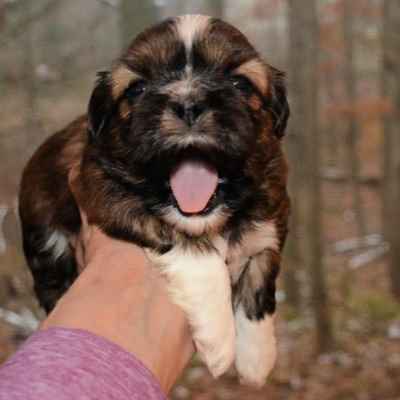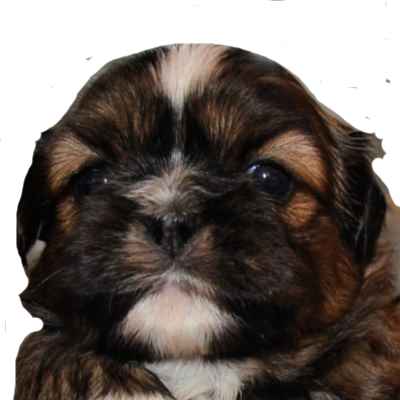 Sales Tax on Puppies:  Attention Ohio Residents

NEW:  The state would like their share.  It has come to our attention that we must collect Ohio Sales Tax for all puppies we sell to residents of Ohio.  We live in Summit County and the tax rate here is 6.75 percent.  If you purchase a puppy from us and live in Ohio, please add sales tax to your total purchase price.

If one of these available puppies interest you, please contact me.  I try to respond within 24 hours, but if you have not heard anything by 48 hours, please contact me again.
Free Puppy Package
All puppies go home with our Puppy Package that includes
Food Sample
Toys and Chews
Paperwork  (Registration paperwork for purebred dogs)
Health certificate from our vet
Shot records that include worming meds and dates
Vitamin/Supplement Samples
New blanket that has Mama and Sibling scents

Life long support
Other (such as chew bones, poop bags, puppy pads, etc.  "for the road."

More Info about Purchasing a Puppy
Puppies are socialized from day one and started on potty training when ready.  Please see our breeding program for more information. 


The earliest that any puppy may leave here is eight weeks old.  We normally hold puppies a little longer, especially if they are extra small.


We offer a life-time support for your puppy and will be here to answer questions, provide information and suggest resources.


We offer a one-two-or-three year health guarantee.  Read our Health Guarantee/Contract online or download a PDF Copy.


To be eligible for a full two year health guarantee, you must purchase NuVet Plus and keep your puppy on this supplement for the full two years.  To learn more about NuVet Plus, click Here.
To purchase NuVet Plus, Please use code:  24352
TO ORDER CALL:  
800-474-7044

OR go to the NuVet site directly http://www.nuvet.com/24352
We can extend the health guarantee to 3 years, if you are willing to keep your dog on pawTree dog food.  Learn more about pawTree. 
Any Shih Tzu Puppies for Sale will come to you up-to-date on vaccinations and 

wormings.

  Any health concerns are dealt with prompt and no puppy is allowed to leave here unless he/she is healthy.
If you would like to see pictures of our parents, please visit our Mama's Page and our Papa's Pages. 


All of our purebred puppies are registered with the American Kennel Club (AKC) and offered with Limited AKC paperwork for the price listed.  Occasionally we sell to small in home breeders (like ourselves) and offer Full AKC registration for an additional charge.
Occasionally we have adults for sale.  Please use the contact us page to request information on dogs that might currently be available.  


We highly recommend that you check out the pages below to learn more about us.  Since our time is limited, and we are not a pet store, please, serious inquiries only.  Thank you for your consideration.  Scroll down for the contact form.
Recommended Reading
Breed Standard  
Bread History    
Shih Tzu Personality  
Shih Tzu Health Concerns
Shih Tzu Puppy Supply List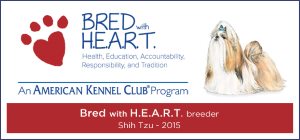 ---
---
Additional Information

Since we are a small in home breeder, we do not always have puppies available, but should be able to tell you about future planned matings.


All of our pure bred puppies are registered with the American Kennel Club (AKC) and offered with Limited AKC paperwork for the price listed. 


If you are a small in home breeder and would like full AKC registration, we may be able to offer it to you.  Please use the contact form to inquire about full AKC registration.  Normally we charge $1500 for full rights.

All available puppies come to you up to date on vaccinations and wormings. In most cases, dew claws are removed. 


Puppies are socialized from day one and started on potty training when ready. 


Our free puppy package to you includes a bag of food, several toys and chews, and a sweet Mama scented blanket and all necessary paperwork. 

More Information from Miracle Shih Tzu

The Mamas

The Papas
Grab our Newsletter 
"Tzu Tips"
Get the latest on everything Shih Tzu.  Sign up today for our monthly E-zine.  It's free!

Like and Comment
Was this information helpful?   
Did you like it? Do you have a comment to share? 
Want to share this page or site with friends?
Have a Question that Needs an Answer?
I am not able to respond directly to your posts below
so if you have a question specifically for me, please use my contact form.  Thanks.