Dog Product Reviews
Dog Product Reviews from Other Tzu Owners
From time to time, I find a great dog product that I like to share with you.  Those dog supplies can be found throughout the website.  But now it's your turn.
Do you know of a great product that you use on your Tzu?  It can be anything but must be dog related (grooming supplies, general supplies, treats, toys, supplements)  Tell Us about that dog product that you love.  
We'd love to hear from you if you've found a great product that other Shih Tzu owners would benefit from and enjoy hearing about? We all want to know which products are the best to use with Shih Tzu dogs and who better to trust than fellow Shih Tzu owners who have actually used them.
Whether it's dog toys, food, treats, chew toys, training aids, grooming supplies, submit your dog product reviews below.
We'd love to see a picture of your Shih Tzu using the product. We'd all love to see them. You can include up to 4 photos with your review.
Here is a few examples of my dogs and my favorite products to get you thinking.

Dog Product Review:  Example One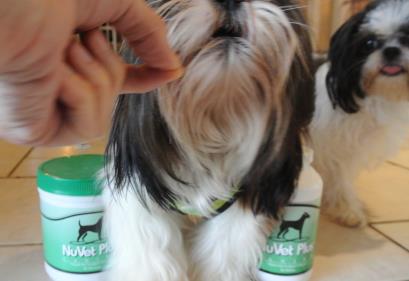 NuVet Plus Canine Supplement
I love this product and have been recommending it to Puppy Buyers.  The wafers are very popular with my adult dogs. 
The dogs in the picture are Clifford (front) and Dana (back, waiting her turn).  You can see them listed on my Mama's and Papa's pages.   I've recently purchased the powder form that I am adding to the food food for puppies.  The puppies seem to love it and are thriving!
The product is made up of human-grade natural vitamins, minerals, herbs, antioxidants, bioflavonoids, fatty acids and amino acids all used to provide immune system support.
There are no artificial colors or flavors.  I personally use them as training treats.  Dogs only need one per day, so I break it up so at least we can practice two commands or more such as "sit" and "down."

I figure that is this product is less expensive than constant trips to the vet.  Do you want to read more?


Dog Product Review Example Two

Most of my dogs are kept in what people call a "Puppy" clip which makes it easier to groom.  But they still need to be brushed and the thicker the hair coat, the more frequently they need brushing. 
Even though they are not in in a show coat, I still like to use a conditioning mist before I begin to brush.  This extra step is very important if you want to maintain the hair coat without breakage, but it is also useful for removing small mats or tangles. 
I love Top Performance GloCoat Conditioner.  I can dilute it with water in a spray bottle and the product seems to last forever. 
This is Gabby being brushed using this product.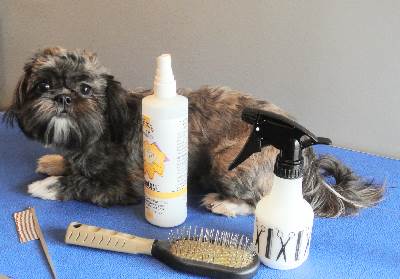 Top Performance GloCoat and Gabby
---
Your Dog Product Reviews:


Your Turn, Add a Dog Product Review
Grab our Newsletter 
"Tzu Tips"
Get the latest on everything Shih Tzu.  Sign up today for our monthly E-zine.  It's free!

Come, Be Social With Us