Miracle Shih Tzu Testimonials

I've devoted this Testimonials page to previous buyer's comments.  See what others are saying about their experiences with Miracle Shih Tzu.    These are people who have purchased AKC registered Shih Tzu, AKC Registered Yorkies, Malti-poos, Mal-Shi, and Morkies from us.
Our goal is to produce puppies that are true family members, healthy, happy and well-socialized when they leave our home and begin their new life with you. 
We have a small breeding operation that produces limited numbers of puppies per year, so most of customers must wait for their dream pet to arrive, often months at a time.  These Miracle Shih Tzu Testimonials are from Real People that have purchased real dogs from us. 
Have you purchased from us?  Would you like to add to this page with a few comments, a great story to tell about your dog or photos you'd love to contribute.  Why not do it right here.  Scroll to the bottom of the page and give us an update on your new puppy.

---
If you are interested in purchasing a puppy from us, please visit our
Available puppies page
Find information about current puppy availability

Our purchase puppy page
Find information about how to purchase a puppy including a copy of our contract

Our About Us Page
Learn more about me and my family

Many previous customers who walk into our home say they feel as if they already know us because everything they needed to know was on the website.  If you have any questions, please do not hesitate to call or fill out the form below.  I try to answer all calls within 24 hours, so if you have not heard from me, please call again.  The best way to reach me is through the form below. 
---
Miracle Shih Tzu Testimonials from Previous Clients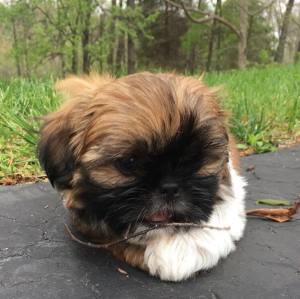 I wanted to let you know we took Gibson (AztLee) to the vet on Tuesday and he checked out perfectly. No concerns whatsoever.

He is doing great, eating well, sleeping well and adjusting well. He sleeps through the night, since the day we brought him home. He's been doing great potty training, actually scratched on the door today. Not to mention he is beautiful. Growing like a weed 3.4lbs now. We are very happy. 
Kelli, Michigan
---
"Lacy" now renamed Maddy is thriving.  She's escaped a few times – she found areas around the fence that rabbits have dug holes to get around the neighbors' yards.  Pretty smart girl!

--Vivian From Ohio

---
I wanted to thank you once again for blessing us with Ricky.  We have purchased him off of you over a year ago and he fit right into our family! Our daughter Kylie loves him, but most of all, Ricky and I formed a great bond together and he follows me everywhere I go!  His color went from dark brown to more of a lighter coat.

Donna, Steve, Kylie (PA)

---
Lola by Isabelita from Ohio

I was very impressed by her (Janice's) compassion, her love and care for her dogs, and her knowledge about Shih Tzu and other breeds. After comparing Janice to other breeders, I knew I would be buying my new puppy from her. We kept in touch over a few months and when the time was right, my family and I picked out the puppy we wanted. We visited the puppy a few times before taking her.  I found tinymiracleshihtzu.com while browsing for a lovable pet.  She quickly became part of the family and the PRINCESS in our house. I would recommend Tiny Miracle Shih Tzu to anyone who is looking for a well cared for and loved puppy. Thanks Janice!!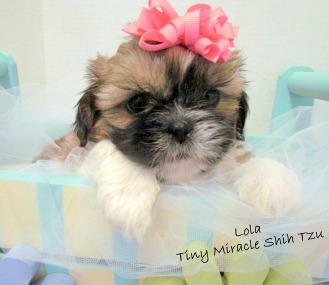 ---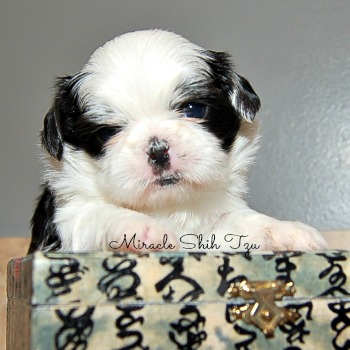 Dottie

This is Dottie from one of your litters. She is now 6 months old and such a joy. She just got her first haircut. Shes very smart and super funny. Shes very lovable and as cute as can be. Thank you for bringing this little girl in our lives. We love her so much!!
           ...Victoria from Ohio

---
Snickers is doing wonderful we just love him so much again I would like to thank you for bringing so much joy into our family with our little man I will send you photos soon.  
...Nikia (Ohio)

Our little Cinnamon has become the love of our life—he's perfect for our lifestyle, does not require much in the way of walks and is so content to lie on my lap. I was worried being a senior citizen and getting a new dog, but I am so happy.  
...Linda (Maryland)

---
Thank you again for our new wonderful puppy. My kids named him Chewie;  he is very cute and very playful, i just think he is such a smart puppy !!! He wants to play all the time, brings me toys and barks at me to throw them for him; thank you again for this wonderful addition to our family !!!!  
...Alexandra from Michigan

---
Zoey, aka Ginger:  She is doing great and is very spoiled.Thank you for letting us adopt her.
--Deb, (Massachusetts)
---
Here are some pictures of the puppy "Onyx" that I purchased from you. I named her Suki which means Beloved in Japanese. We just celebrated her first birthday, with a doggie cake and gifts! Janice I would like to thank you for my addition to my family. You made my purchase of Suki online comfortable and secure. I love that you were so detailed with my interest of her because I knew you cared. Thank you again!

   ...Margo from SC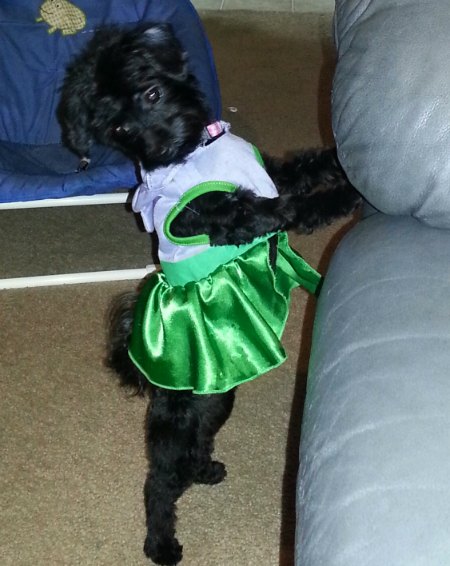 ---
We Want to Hear About Your Puppy and Your Experience with Miracle Shih Tzu

Bought a Puppy From Us? Tell Us About the Experience
Please let us know how your new puppy is doing and your opinion/feelings about Miracle Shih Tzu. Would You Recommend Us to a Friend? We want to hear from you
What Other Visitors Have Said
Click below to see contributions from other visitors to this page...

Grab our Newsletter 
"Tzu Tips"
Get the latest on everything Shih Tzu.  Sign up today for our monthly E-zine.  It's free!

Come, Be Social With Us