Our Shih Tzu Dads
By Janice Jones     |Updated 04-28-2022
This page is devoted to our Shih Tzu Sires and other special guys that live with us and that make the cutest puppies.  These dogs are first and foremost our pets and they are treated as such. 

Our Adult Shih Tzu Males are AKC registered and DNA checked.  We get our dogs' knees and hips checked out and do a thorough general health exam before using them as stud.   They are not for sale.
All of the adult girls can be found at the Shih Tzu Moms Page

Meet the Shih Tzu Dads
Say Hello to Our Toby Tao

He is our gorgeous 10 pound brindle colored Shih Tzu with a super thick coat and tons of personality. Sadly, his father, Mr. Kool Beans passed on and we truly miss him.  Now, Toby is our oldest and best stud.
His personality can't be beat - loving, devoted and an all-round family dog, Toby is never far from my side.  Just a bit reserved with strangers, it doesn't take long for him to get to know you.  One big lap dog.

Here's our Bentley Coupe
Bentley is a solid Chocolate (liver) boy with a friendly, happy go lucky attitude.  He loves people and all the other dogs.  He's the son of our mama, Cherry and takes on much of her personality.  He's just recently taken on the role of stud dog but has not sired a litter yet.  There's still time for this charming fella.

Meet Our Petit Chien Beauregard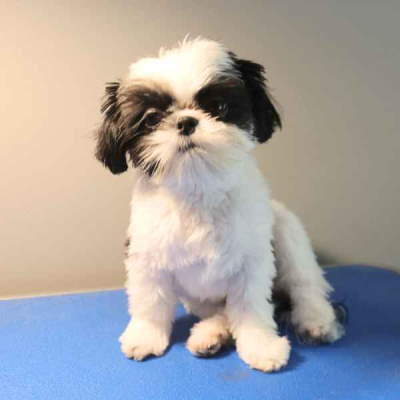 Beau for short, he's full of life and loves everyone he meets.  In fact, I wish I had a penny for every time someone came to the door wishing to take him home. He's the son of our Championed sired Poppy Longstocking which explains some of his personality.  Not only is he friendly, he's the perfect little man in many ways. He's had one litter of lovely little puppies and we're hoping for many more.

Have You Signed Up for Our Newsletter?
It's free and it will be delivered to your inbox.  Don't worry, we hate spam as much as you do, so your email address is safe with me.  
More Resources To Check Out
If you found our Shih Tzu Sires Page helpful, may I suggest you hop on over to some of other breeding program pages.