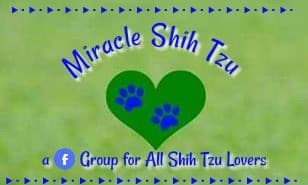 Come Join the fun at our new Facebook Group Page
Shih Tzu Nursery C

---
FTC Disclosure:  If you make a purchase via a link on this site, I may receive a small commission on the transaction - at no added cost to you. Thank you!

This Shih Tzu nursery is empty at this time.
See our Available Puppies Page
---
We are located in North-East Ohio, between Cleveland and Akron.  Sorry, we do not ship, but may be able to meet you half way if you live within a couple hundred mile radius. 
Naturally, we prefer that you visit us so you will be able to meet the Mama and the Father, and see how your baby is being raised. We understand, though, that is not always possible.

All of my dogs live in our home and are constantly under foot and involved in our family's daily activities.  We do not own a kennel and we are not a puppy-mill. 
But, don't take my word for it, plan a visit.  We make every effort to accommodate your schedule, but you must schedule an appointment to visit.

Grab our Newsletter 
"Tzu Tips"
Get the latest on everything Shih Tzu.  Sign up today for our monthly E-zine.  It's free!

Like and Comment
Was this information helpful?   
Did you like it? Do you have a comment to share? 
Want to share this page or site with friends?
Have a Question that Needs an Answer?
I am not able to respond directly to your posts below
so if you have a question specifically for me, please use my contact form.  Thanks.