Home
› Shih Tzu Nursery C
Shih Tzu Nursery C

Shih Tzu Nursery C Home to Lilah and Timi's Litter
Shih Tzu Nursery C Last Updated 12/12/2018
Lilah had one little puppy on November 19, 2018, a little red-gold colored girl.  She will turn 8 weeks on January 14th and 9 weeks on January 21 -  A late Christmas Present or an Early Valentine's Day Gift?
AKC Limited is $950 and AKC Full Rights is $1500
Please contact me if interested
Please visit our Mamas and Papas Pages to see some of Adult Breeding Dogs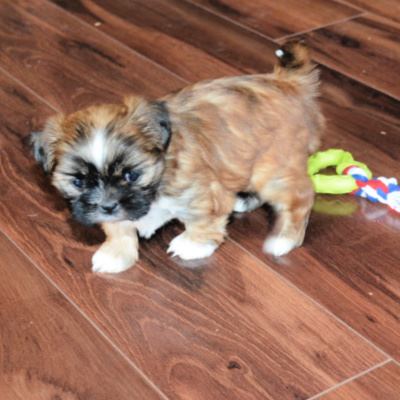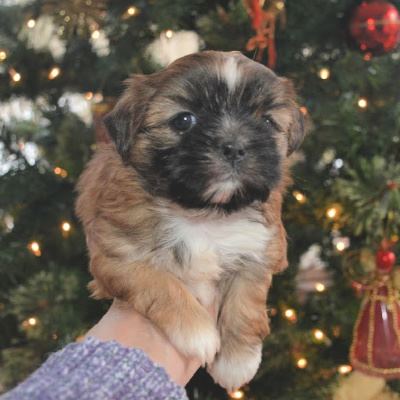 We are located in North-East Ohio, between Cleveland and Akron.  Sorry, we do not ship, but may be able to meet you half way if you live within a couple hundred mile radius. 
Naturally, we prefer that you visit us so you will be able to meet the Mama and the Father, and see how your baby is being raised. We understand, though, that is not always possible.

All of my dogs live in our home and are constantly under foot and involved in our family's daily activities.  We do not own a kennel and we are not a puppy-mill. 
But, don't take my word for it, plan a visit.  We make every effort to accommodate your schedule, but you must schedule an appointment to visit.

Additional Information for Visitors of Shih Tzu Nursery C
All available puppies from our Shih Tzu Nursery C come to you up to date on vaccinations and wormings. We no longer remove dew claws.  
Puppies are socialized from day one and started on potty training when ready. 
Most puppies are ready to go to their forever homes on or after 8 weeks of age.  I prefer to keep them until 9 weeks.  Those that stay with their mother one more week tend to do better in their new forever home.
A non refundable deposit of $200.00 holds your puppy.  I will accept PayPal, Check or Cash.  The remainder is due when you pick up the puppy.  Final payments should be either PayPal or Cash.
Our free puppy package to you includes a bag of food, several toys and chews, and a sweet Mama scented blanket.  We also offer a lifetime support for your puppy.  
If you need us to hold your puppy past the date that they are able to go home, you may incur a boarding charge of $5.00 per day.
Currently the puppies are eating pawTree, Turkey and Brown Rice Formula.  This food is formulated by a person with a PhD in animal nutrition and is the highest quality of food that I have found yet. Please visit the pawTree site to learn more and place your order.  
We also give the puppies (and our adult dogs) NuVet Plus.  You can read more about this supplement, here.
Don't forget to sign up for our newsletter and like us on Facebook.
Grab our Newsletter 
"Tzu Tips"
Get the latest on everything Shih Tzu.  Sign up today for our monthly E-zine.  It's free!

Like and Comment
Was this information helpful?   
Did you like it? Do you have a comment to share? 
Want to share this page or site with friends?
Have a Question that Needs an Answer?
I am not able to respond directly to your posts below
so if you have a question specifically for me, please use my contact form.  Thanks.