Shih Tzu Puppies for Sale
Shih Tzu Puppies for Sale     by Janice Jones, M.A.     |Last Updated 10-19-2022
Are you ready for a Miracle Shih Tzu Pup?
Adding a furbaby to your home is a big decision and an exciting time.  The love that a puppy can give is priceless.  They bring love and joy into our hearts, provide us with a sense of purpose, and supply us with a ready-made companion so we will never be lonely again.
Please continue reading to learn more about our breeding program, or jump to Available Puppies to see whose looking for a forever home.
Just What is a Miracle Shih Tzu Puppy?
Miracle Shih Tzu Pup is devoted to producing high quality puppies at affordable prices. Welcome to our breeding program online.
As a new Shih Tzu parent, we want you to be comfortable and confident you are getting the very best puppy that meets your needs. 
We breed for health, temperament, and conformation. Our specialty is puppy development and socialization.  No two puppies are ever alike.  
Our Shih Tzu are registered with the American Kennel Club (AKC) and we offer both Limited and Full Registration options. All of our dogs and puppies live with us in our home.  NO KENNEL HERE.
A Breed Above the Rest
We believe that a puppy should be first and foremost, a member of the family.  As a companion, they should be healthy and well-adjusted and should look like the standard breed description. 
We also believe that everyone deserves a puppy who wants one.  Therefore, we keep our fees reasonable unlike most other breeders who produce puppies at exorbitant rates because they think their puppies are better somehow than everyone else's.
We are in the breeding business because we love the breed, want to improve the breed and care deeply about each puppy that we bring into this world.
Above and beyond that, I've been a dog lover since I was a very young girl.  Having lived with dogs and worked in various dog-related areas, breeding seemed like a natural hobby/occupation for my retirement years.
What Can I Offer You?
Finding and falling in love with a puppy online is a scary experience.  You never know whether your perfect puppy exists at all and whether the breeder is just another scam artist waiting to take your money and run.
We understand.  We've seen these unscrupulous people trying to con people into giving away their money only to find that no puppies actually exist. We despise the thought that people will play with others' emotions just to make a dollar or two.
May I Introduce Myself?
Hello, My name is Janice Jones and I've been breeding for about 10 years now.  I can assure you that that every puppy that leaves our home is as ready as ever for his new adventure into your home environment. 
Please take a moment to check out my about me page.  You will find that not only do I have a passion for dogs, but for people in general.  
I'd like to get to know you too, and my guess is you'd like to know more about me. 

What a Miracle Shih Tzu Puppy is Not
First, we are not a large scale breeding facility, even though I like to think this website suggests otherwise.  
We don't own a kennel.  All of our adult dogs live with us in our suburban Hudson, Ohio  home, where you are most welcome to come visit.
We are not a puppy broker.  All of our puppies are born here in my Ohio home and come from our AKC registered mama and papa Shih Tzu parents.  
We are not a show breeder, although most of our parents come from champion lines.
This is a family owned business where Mom (Janice), Dad (Alan) and adult kids, Aaron, Nick and Elizabeth all chip in to make puppies the best they can be.
Ready to learn more about our Miracle Shih Tzu Pups?
Litter Announcements & Available Puppies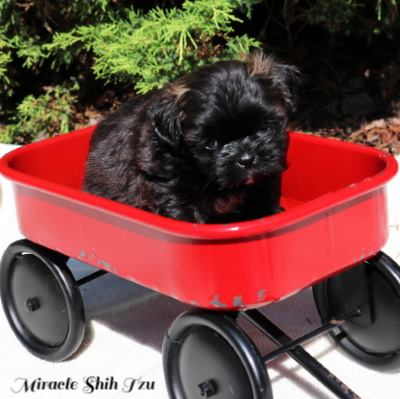 We don't always have puppies available.  But when we do have litters, here is where we will announce them.  We have scaled way back so that our moms get plenty of attention when they are healthy to whelp.  Visit our Available Puppy Pages now.

Why Consider Miracle Shih Tzu Pup over other breeders?
At Miracle Shih Tzu Pup, we understand you have plenty of options when you decide the time is right to bring a new puppy into your life.
You can visit a pet store, look for breeders on Facebook or Google for more puppies on line.   Naturally, you also have the option to visit a rescue or shelter.
None of these options are satisfactory if you are looking for high quality puppies in your neighborhood at decent prices.