Home > Shih Tzu Puppies for Sale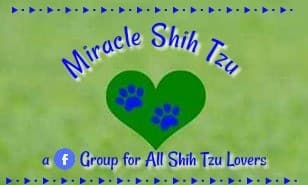 Come Join the fun at our new Facebook Group Page
Shih Tzu Puppies for Sale 

Shih Tzu Puppies for Sale in NE Ohio was last updated on July 29, 2018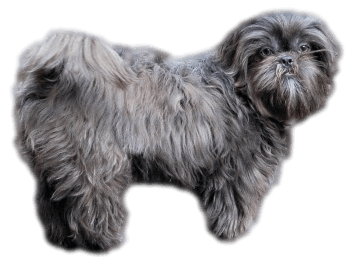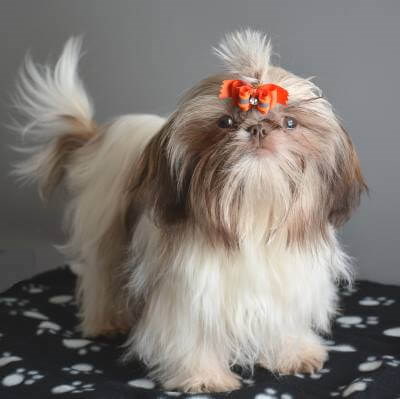 Lucy had 3 girls on Monday, July 16, 2018

$900 Limited AKC
Contact me if you are interested in reserving a puppy.
Girl One:  Bella - Hold for Helena
Newborn Shih Tzu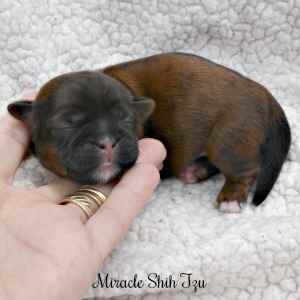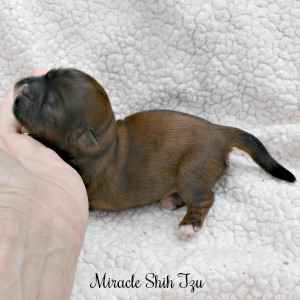 2-week-old Shih Tzu, Bella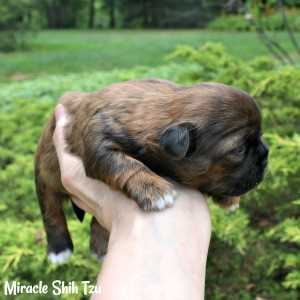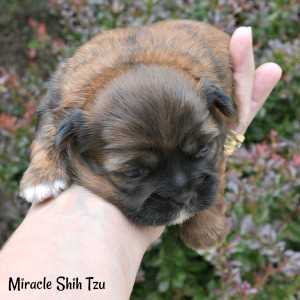 Four Week Old Bella
Girl Two - Hold for Michael "Chloe"
Newborn Shih Tzu Girl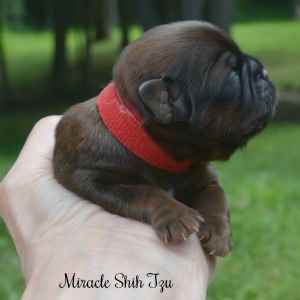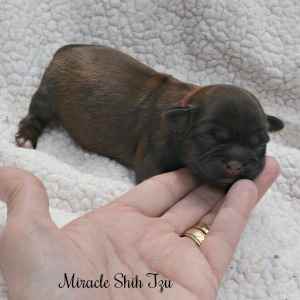 2 week old Chloe.  Her eyes are almost open but not as wide as the others.  She is looking to be mostly all brindle.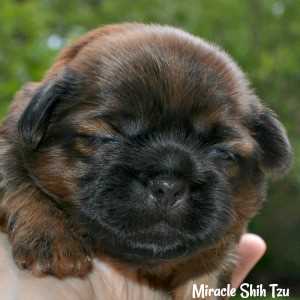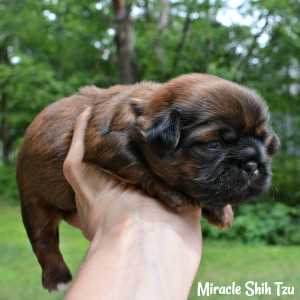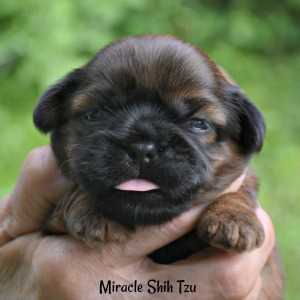 Four Week Old Chloe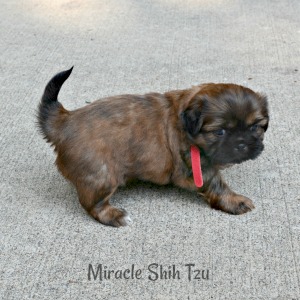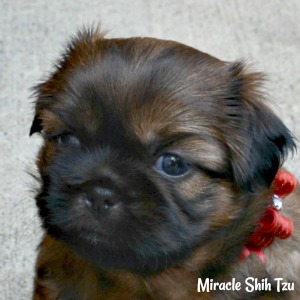 Girl Three - Available
Newborn Shih Tzu Puppy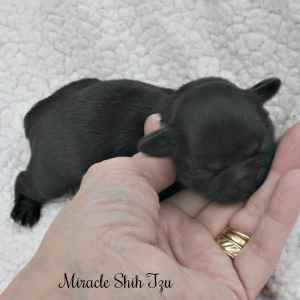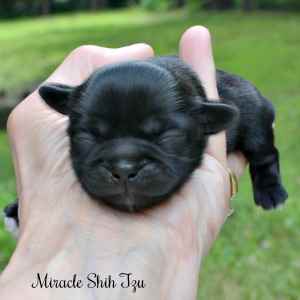 2-Week old Shih Tzu Puppy for Sale:  Available  This little girl is almost all black with just a bit of white on her paws and chest.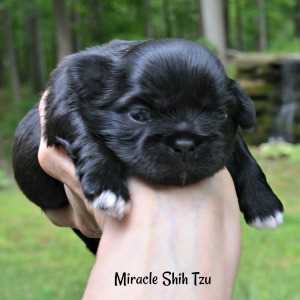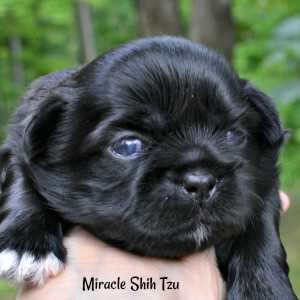 Four Week Old Female Shih Tzu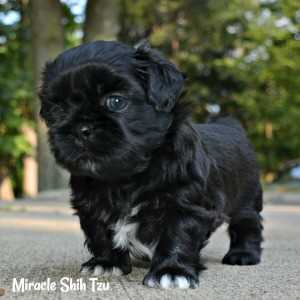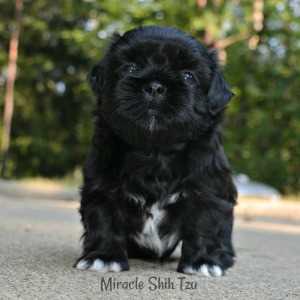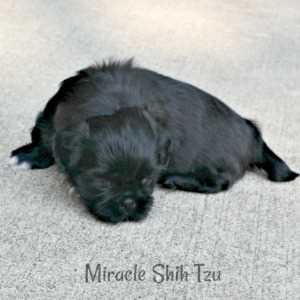 ---
Three sisters together at 4 weeks old.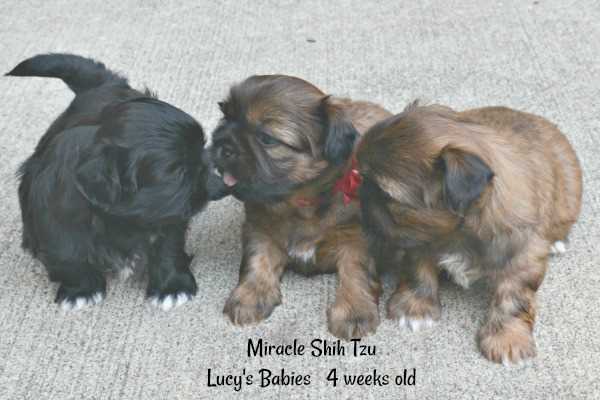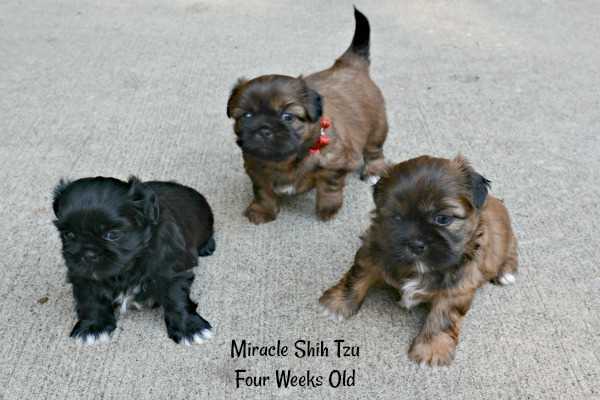 Sales Tax on Puppies:  Attention Ohio Residents

NEW:  The state would like their share.  It has come to our attention that we must collect Ohio Sales Tax for all puppies we sell to residents of Ohio.  We live in Summit County and the tax rate here is 6.75 percent.  If you purchase a puppy from us and live in Ohio, please add sales tax to your total purchase price.
---
If you would like to see pictures of our parents, please visit our Mama's Page and our Papa's Pages.


We encourage you to place your new puppy on a supplement that includes natural antioxidants, herbs, minerals and vitamins.  It is intended to strengthen the immune system but it does much more.  Visit NuVet Plus and use the code:  24352



Since we are a small in-home breeder, we do not always have puppies available, but should be able to tell you about future planned matings, if you are interested.  Use the contact form below to inquire.


All of our purebred puppies are registered with the American Kennel Club (AKC) and offered with Limited AKC paperwork for the price listed.  Occasionally we sell to small in home breeders (like ourselves) and offer Full AKC registration for an additional charge.
Occasionally we have adults for sale.  Please use the contact us page to request information on dogs that might currently be available.  



We highly recommend that you check out the pages below to learn more about us.  Since our time is limited, and we are not a pet store, please, serious inquiries only.  Thank you for your consideration.  Scroll down for the contact form.



---
More Information About Our Shih Tzu Puppies For Sale

---
Interested in More Information about a Miracle Shih Tzu Puppy?

Grab our Newsletter 
"Tzu Tips"
Get the latest on everything Shih Tzu.  Sign up today for our monthly E-zine.  It's free!

Like and Comment
Was this information helpful?   
Did you like it? Do you have a comment to share? 
Want to share this page or site with friends?
Have a Question that Needs an Answer?
I am not able to respond directly to your posts below
so if you have a question specifically for me, please use my contact form.  Thanks.