Home > Shih Tzu Puppies for Sale
Shih Tzu Puppies for Sale 

Shih Tzu Puppies for Sale in NE Ohio was last updated on November 26, 2018.
Click on any of the links below to go to the individual nursery room pages.

Four litters of Shih Tzu Puppies for Sale
Poppy's Litter (Scroll Down)
Upcoming Litters Expected
Cherry
Lilah
---
Poppy and Toby
Poppy had a litter of three boys, two brindles and one red.  
$1000 AKC Limited  Full AKC rights for a high price to approved breeders only
Poppy was Championed Sired with quite a few Champions in her line. (A copy of her pedigree is available as a pdf if anyone is interested.  Contact me.
Puppies were born October 29th.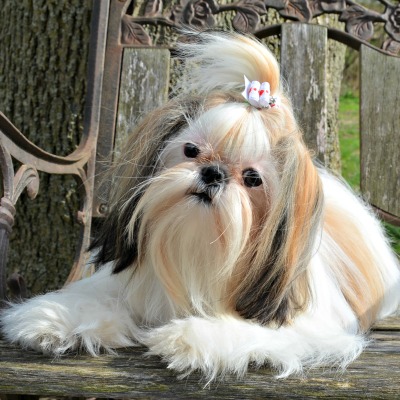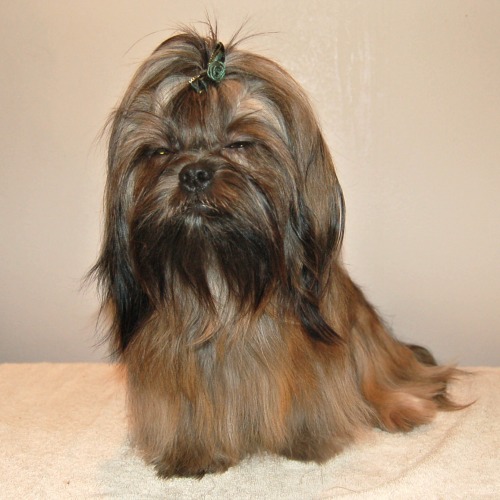 Meko-Available
Meko is a red brindle with a little white on some of his paws and a white tuxedo marking on his chest.  He also has a black mask.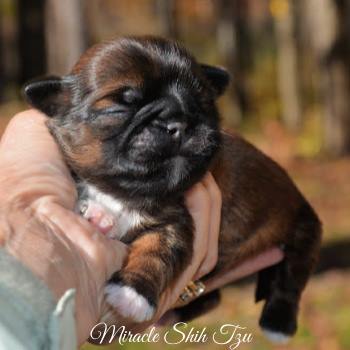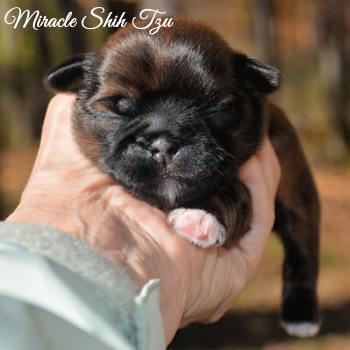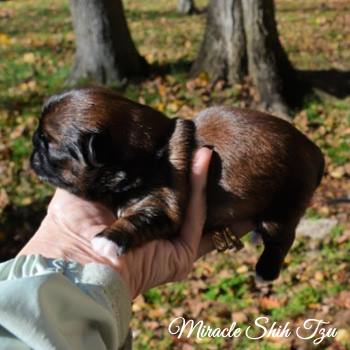 Zeus- Available
Zeus is the same stunning red brindle with a bit more white on his paws, chest and head.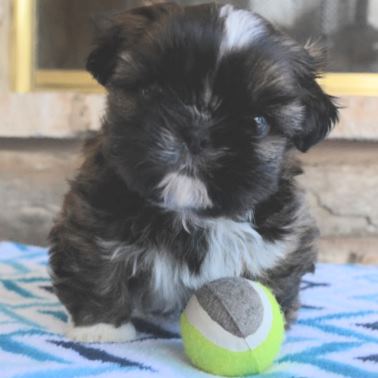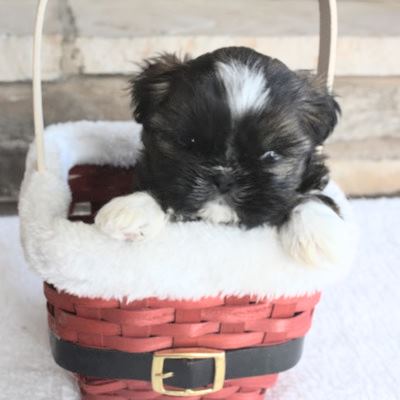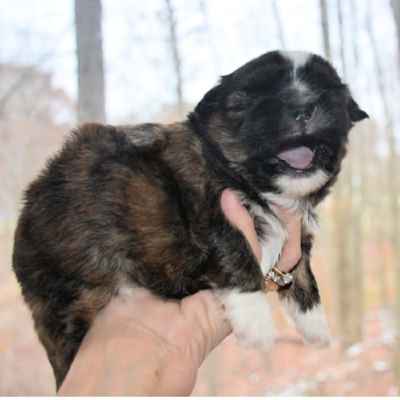 Thor - Hold for Scott
Thor is appearing to be more of a red, but there is a some brindling in his coat.  Four white paws and tuxedo markings on his chest. He also looks like he's getting a black mask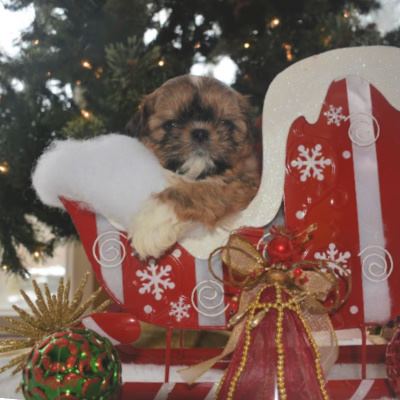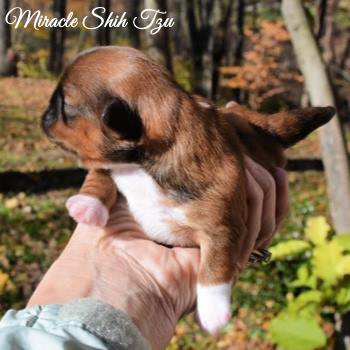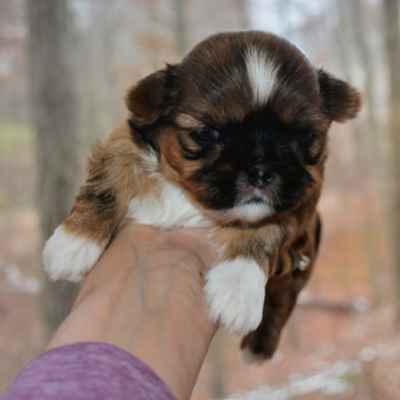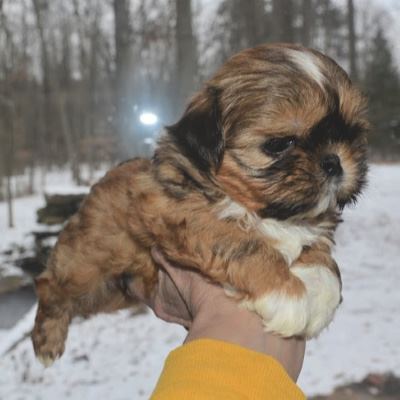 Sales Tax on Puppies:  Attention Ohio Residents

NEW:  The state would like their share.  It has come to our attention that we must collect Ohio Sales Tax for all puppies we sell to residents of Ohio.  We live in Summit County and the tax rate here is 6.75 percent.  If you purchase a puppy from us and live in Ohio, please add sales tax to your total purchase price.
---
Our Puppy Package to You
All puppies go home with our Puppy Package that includes
Food Sample
Toys and Chews
Paperwork  (Registration paperwork for purebred dogs)
Health certificate from our vet
Shot records that include worming meds and dates
Vitamin/Supplement Samples
New blanket that has Mama and Sibling scents 
Life long support
Other (such as chew bones, poop bags, puppy pads, etc.  "for the road."
Ask about Microchipping
More Info about Purchasing a Puppy
TO ORDER CALL:  
800-474-7044

OR go to the NuVet site directly http://www.nuvet.com/24352
We can extend the health guarantee to 3 years, if you are willing to keep your dog on pawTree dog food.  Learn more about pawTree. 
Any Shih Tzu Puppies for Sale will come to you up-to-date on vaccinations and

wormings.

  Any health concerns are dealt with prompt and no puppy is allowed to leave here unless he/she is healthy.
If you would like to see pictures of our parents, please visit our Mama's Page and our Papa's Pages.


All of our purebred puppies are registered with the American Kennel Club (AKC) and offered with Limited AKC paperwork for the price listed.  Occasionally we sell to small in home breeders (like ourselves) and offer Full AKC registration for an additional charge.
Occasionally we have adults for sale.  Please use the contact us page to request information on dogs that might currently be available.  



We highly recommend that you check out the pages below to learn more about us.  Since our time is limited, and we are not a pet store, please, serious inquiries only.  Thank you for your consideration.  Scroll down for the contact form.



---
More Information About Our Shih Tzu Puppies For Sale

---
Interested in More Information about a Miracle Shih Tzu Puppy?

Grab our Newsletter 
"Tzu Tips"
Get the latest on everything Shih Tzu.  Sign up today for our monthly E-zine.  It's free!

Like and Comment
Was this information helpful?   
Did you like it? Do you have a comment to share? 
Want to share this page or site with friends?
Have a Question that Needs an Answer?
I am not able to respond directly to your posts below
so if you have a question specifically for me, please use my contact form.  Thanks.