Rolo, my Shih tzu boy
by Gemma
(UK)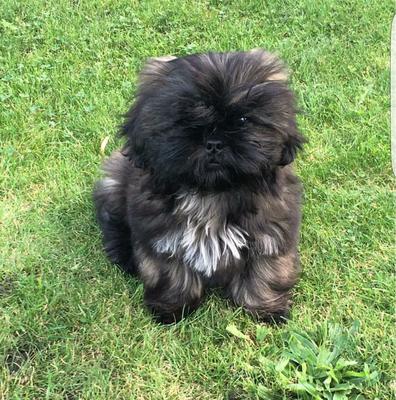 Hi could you tell me what colour my dog is classed as, He has a few different beautiful colours but never been sure what colour he actually is classed as. Thank you

-------------------------------------------------
Hi, Janice Here from Miracle Shih Tzu
-------------------------------------------------

Thank you, Gemma for sharing your beautiful Shih Tzu boy, Rolo with us. He has some beautiful colors in his coat.

Looking at the pictures you uploaded, I would have to say that he is a brindle Shih Tzu.

As many (if not most) Shih Tzu dogs, it appears as if his colors have changed as he has grown.

As a puppy, he had some beautiful golds and maybe reds in the brindling. After his haircut, it appears that there are silvers/grays coming through.

Photographs never do a Shih Tzu justice, in my opinion, because the light never truly reflects all the amazing colors in their coat.

So, if people ask you what colour your dog is, you can tell them that he is Brindle.


Advertising on this Site
Miracle Shih Tzu is a participant in the Amazon Services LLC Associates Program, an affiliate advertising program designed to provide a means for sites to earn advertising fees by advertising and linking to amazon.com  This site receives a small commission from all affiliate links and third-party advertising.

Like and Comment
Was this information helpful?   
Did you like it? Do you have a comment to share? 

Just leave a comment below, and click like or share to let others know about this site. 
Thank you so much.  I really appreciate your input.
Have a Question that Needs an Answer?
I am not always able to respond directly to your posts below
so if you have a question specifically for me, please use my contact form.  Thanks.