About Us

We believe that you should know a little bit about us, the type of environment that your puppy has been raised in, our backgrounds, and and the why behind this website.   
I love meeting perspective puppy buyers in person, and these people who come to our home often remark that they already feel they know us by our pictures and our story below.  
But I also realize that a large percentage of our customers do not live within driving distance, so must rely on the Internet for information.  
So, I am providing you will some details about my life:  The good, the bad, and the boring so you will get to know me better.  
First and foremost, I am a dog lover, but I am especially drawn to the smaller breeds.  I fell in love with the Shih Tzu breed in the 1970s and had a litter or two at that time. But that was long ago and we have also had poodles, Yorkies, Maltese and other toy breeds over the years as pets. There was never a time in my life since my 10th birthday that I didn't have a dog around to keep me company. 
During my 20s, I was working full time as a veterinary technician and going to school part time majoring in biology/pre-vet.  The birth of my first child changed my career course and I continued on to receive a degree in nursing from Harford Community College in Maryland.  
From there I worked with special needs children offering in home child care while still loving my canine family of three.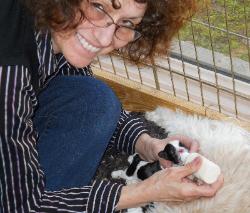 Later on, I completed a bachelor's degree in psychology from the University of Maryland and a Master's Degree from the University of Cincinnati. During this period I worked in child care, in the public schools, and as a counselor. 
I regret that I was all but finishing my dissertation when I ended up "dropping out of school" and thus never finishing a PhD.

In the meantime, my focus shifted exclusively to children, and education.  I was able to combine all of my passions when I purchased a child care facility in Amarillo Texas, Storyland Preschool and Child Care Center, a Texas Rising Star Four Star Provider.  
Please feel free to click on the link to Storyland as it will give you a little more insight about  me and my passions. This continues to be my passion as I finished another degree in Early Child Education from Amarillo College in 2011 right before I turned 60, and proved you're never too old to learn!

But due to a relocation, I found myself in Northeast Ohio and semi-retired.  I love children and they continue to be my passion, but I also love animals and have always had several dogs and cats as pets.  
For this reason, I decided to pursue an adventure unlike any other that I have ever experienced that of dog breeding and I chose the Shih Tzu because it remains my favorite breed after 40 years of owning and loving Shih Tzu dogs.
This led to me starting this website and my other, Small Dog Place.   Hope you will visit this site too.
I have since fallen in love with other toy breeds including Yorkies, Maltese and Poodles.
AND, quite frankly I haven't found a breed I don't like, but luckily my husband is the more sensible of us two and keeps the canine population in our home under control (at least he tries!)

About Us
Now, for the rest of my family. They help out as time permits.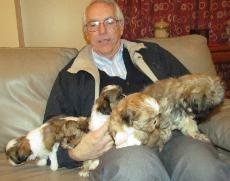 I am married to my high school sweetheart, Alan for the past 40+ years.  Alan is an attorney and also a dog lover.  
We have three beautiful children, now grown.
Aaron is our oldest and helps out with our dogs in between work and  school. 
Nick, a Texan through and through, but actually native born Thai and a West Texas A & M graduate who also relocated to Ohio and currently works as a Project Manager in a firm located in Ohio.
Elizabeth is my lovely 19 year old, pictured below, who is also a dog lover.  
She helps with photography and video and offer suggestion of all kinds to her old mother. She is attending college in Ohio.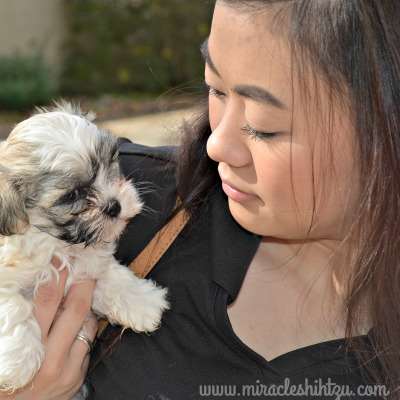 We all live on a five acre wooded lot filled with natural wildlife:  deer, squirrels, bunnies, chipmunks, wild turkey, raccoon, birds any of the other myriad creatures that have eluded our detection.  
 Inside our home lives our Shih Tzu, an English Bull Dog and two cats.  Needless to say, we don't always have the quietest home on the block.  

Wonder How I Built This Website?
I'm not a coding expert or even a graphic designer.  I was able to make this site and update it regularly without any help from expensive web developers.  Want to Know How?  You could do it too. In my SBI review page, I provide all the information you need to help you make a decision about starting an online business.
Grab our Newsletter 
"Tzu Tips"
Get the latest on everything Shih Tzu.  Sign up today for our monthly E-zine.  It's free!

Like and Comment
Was this information helpful?   
Did you like it? Do you have a comment to share? 
Want to share this page or site with friends?
Have a Question that Needs an Answer?
I am not able to respond directly to your posts below
so if you have a question specifically for me, please use my contact form.  Thanks.