Maltese Shih Tzu Hybrid Puppies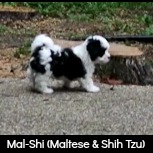 Allow me to introduce these Maltese Shih Tzu Puppies,  Buddy and Bandit, sweet, cuddly and curious-- well just plain adorable. 
Watch as they learn, play and even get into trouble on the video we made of them August 31, 2014. Go Directly to Video.

They were born on July 11, 2014 and are available as of September 1, 2014.  Their mom is Haven an AKC registered Maltese and Fletcher, AKC registered Shih Tzu. 
At 7 1/2 weeks of age, their weight is 3 pounds.  Fully grown, their adult weight should be in the 7 to 9 pound range.  They have been wormed for all intestinal parasites including Giardia and Coccidia and they will be up to date on their puppy immunizations. 
Their Dew Claws have been removed.  If you are new to the Mal-Shi, you might find our article, Mal-Shi Dogs Helpful. 

They are in the process of being potty trained both outside and on a potty pad indoors. 

All Puppies from Miracle Shih Tzu come with our special free puppy package.  You will receive:
Mama scented blanket
Chews and treats
Bag of Puppy Food
Toys
Contract with Guarantee

Medical Records
Life time support
Contact Miracle Shih Tzu if you are interested using the form Below.
Maltese Shih Tzu Hybrid Puppies Video

Correction to the Video:  "Are" Should be "Our."  Sorry for the typo.
Grab our Newsletter 
"Tzu Tips"
Get the latest on everything Shih Tzu.  Sign up today for our monthly E-zine.  It's free!

Advertising on this Site
Miracle Shih Tzu is a participant in the Amazon Services LLC Associates Program, an affiliate advertising program designed to provide a means for sites to earn advertising fees by advertising and linking to amazon.com  This site receives a small commission from all affiliate links and third-party advertising.

Like and Comment
Was this information helpful?   
Did you like it? Do you have a comment to share? 

Just leave a comment below, and click like or share to let others know about this site. 
Thank you so much.  I really appreciate your input.
Have a Question that Needs an Answer?
I am not always able to respond directly to your posts below
so if you have a question specifically for me, please use my contact form.  Thanks.