Shih Tzu Dog Names

Shih Tzu Dog Names     by Janice Jones     |Last Updated 10-20-2022
Can't decide what to name your new Shih Tzu puppy? 
We've done a little research and came up with a list of some popular dog names by breed based on what our puppy buyers have chosen as the perfect Shih Tzu puppy dog names.
This is what we found out about Shih Tzu owners: Shih Tzu owners tend to choose names based on a variety of criteria.
The color of their dog
A Yummy Food
A favorite human name
A name that describes their personality or temperament
A name based on size
A royal name
An Asian name
A famous animal name from television or movies
A famous duet
A memory or experience from their past
Favorite character from TV, Movies, Cartoons, or Music idols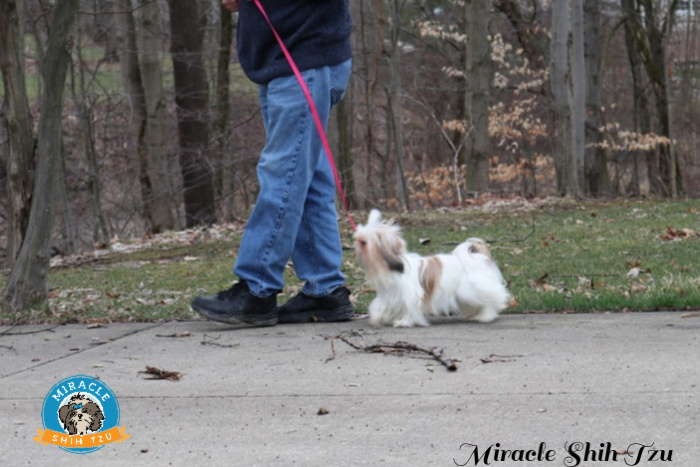 Shih Tzu Dog Names

Chocolate or Liver Colored Shih Tzu puppies:  
Latti, Mocha, Hershey, Coco, Snickers, Cadbury, or Recess, Fudge, Pepsi, Brownie, Expresso, Cola, Woody
For more information on naming your Chocolate/Liver colored Shih Tzu with tons of suggestions, be sure to check out our page on Naming Your Brown Dog

Red or Gold Shih Tzu names: 
Cinnamon, Nutmeg, Ginger, Blaze, Chili, Kumquat, Mars, Rojo, Ember, Fawn, Gingersnap, Hazel, Paprika, Sandy, Sienna, Scarlett, Sunset, Rusty,  Garnet, Flame, Cherry, Brandy, Cayenne, Butterscotch, Coffee, Chestnut, Cola, Molasses, Kona, Java
Black Shih Tzu names: 
Onyx, Midnight, Licorice, Blackie, Charcoal, Indigo, Pepper, Pearl, Raisin, Soot, Midnight, Blackberry Blackie Blackjack, Ebony, Eightball, Carbon, Raven
White or Light Colored Shih Tzu Puppies

Angel, Biscuit, Igloo, Champagne, Cloudy, Ivory, Marshmallow, Opal, Stardust, Crystal, Cotton, Milky Way, Lilli, Salt, Snowflake, Snowball, Icicle, Popcorn
Black and White

Oreo, Ying-Yang, Domino, Panda, Penguin, Checkers

Silver or Blue Colored Shih Tzu Puppies
A rare Shih Tzu color deserves a very interesting name.  Consider, Meeko, Blade, Granite, or Flint.  For explanation to these names and more to chose from visit 100 Clever Names for a Blue or Gray Dog
Shih Tzu Dog Names Based on Foods

Some owners like to call their dogs by names that remind them of delicious foods such as Cupcake, Cookie, Candy, Brownie, or Smores. Twinkie, Pretzel, or Crackers.
Read more about dog names based on food
---
Shih Tzu Dog Names Based on Human Names

Since Shih Tzu dogs seem more like children than pets, their owners will choose a name based on popular boy and girl names.  Names that are chosen by new parents-to-be are also used by dog owners-to-be.  
Look at any name list and you are likely to see dogs named Eva, Izzi, Sophia and Emily.  If the fur baby is a boy, you might find names such as Noah, Jacob, Liam and Jackson.  
More traditional human names remain popular such as Charlie and Sam but the trend tends to be on the road toward unique and unusual.
Sometimes it is acceptable to choose a more common name but find a unique spelling to make it more distinctive.  Think of all the ways you could spell the name Zoe—
Zoey, Zoie, Zoy, Zoee. 
Girl Shih Tzu Names                       Boy Shih Tzu Names

---
Dog Names Based on Personality

Many Shih Tzu dog owners want a name that describes their dog's personality or mocks the real temperament of the Shih Tzu dog.  
Cute names that fall into this category include Cuddles, Sweetheart, Cutie Pie, Baby Doll, Shadow, Buddy, Sassy, or Precious. 
Those names that mock the true nature of the Shih Tzu personality include Bear, Bruiser, Samson and Tiger.
---
Shih Tzu Dog Names Based on Size

Names that depict the size of the dog are also very popular such as Pixie, Peanut, Tiny, Dwarf, Tink, Tinkerbell, Speck, Poco if you want to describe the small nature of this breed. 

Some will name their tiny dogs with big names such as Samson, Alpha, Hercules, Zeus or Merlin, Diesel, Giant, or Bear.

---
Dog Names Based on Royalty

Because Shih Tzu dogs seem so noble in nature, many owners will choose a regal name such as Princess, Queen, Duke, or Starr.
Sometimes Shih Tzu owners will name their dogs after real life royalty such as Elizabeth, Victoria, Charles, or Henry.  Have you considered Diana, Fergie, Anastasia, or Harry?

---
Shih Tzu Dog Names Based on their
Country of Origin

Since the Shih Tzu breed originated in Asia, some Shih Tzu owners want to use a Chinese or other Asian name.
Popular names in this category include Ming Sue, Mei Ling, Mei Lee, Saki, Bonsai, Haiku, Sushi,  Yoshi, Kim-chi, Geisha, Chang, Chopsticks, Chow Mein, Honda, Hoshi, Kabuki, Kei-ko, Ling-Ling, Suki, Sumo, Tokyo, Tori, Yang, Yoko, Tai Pan
---
Shih Tzu Dog Names Based on TV & Movie Characters

Famous dog or animal names are still always popular including Snoopy, Benji, Marley, Bob and Blue.  Other tried and true names include Rin Tin Tin, Lassie, Beethoven and Winn-Dixie.

There is always a Disney character that will share his name your Tzu.  Consider Micky, Minnie, Pluto, Donald, Daisy, Daffy, Jasmine, Mulan, Bambi, or Alice.  Lion, King,
---
Shih Tzu Dog Names for the Tech Savvy

Some new techno names have emerged in the last few decades that people will use to name their dog.  Consider the following

Google
Yahoo
Nano
Widget
Byte
Beta
Cyber
Panda (also good for a black and white dog)
Penguin (also good for a black and white dog)Wyswyg

More Names For the Tech Savvy Dog

---
Shih Tzu Names Based on Favorite Movie Characters:  Star Wars
What do Shih Tzu puppies resemble?  Many think they look like a character from Star Wars.  Flat faced lovable characters such as Chewbacca or Chewy for short.  It's not a stretch to imagine that may Shih Tzu puppies are named after characters from the the Star Wars Movies.  In fact, so many of my puppies have been named from memorable characters that I couldn't resist the temptation to add a few here "just for the record."  AND yes, even a few of my own mamas and papas have those names because, I too, love Star Wars,  Check out our mama's and papas pages for Princess Leia and Obi Won-Tzu-Nobi.
Vadar
Yoda
Princess Leia
Solo
Hans
Luke
Skywalker
Chewbacca
Chewy
Lando
Padmé
Finn
Rex (Captain Rex)
Mara Jade
Anakin
Jedi
Ren
Trooper
Rey
Jabba
Shih Tzu Dog names Based on Famous Duets

Bonnie and Clyde
Lucy and Ricky
Simon and Garfunkel
Bert and Ernie
Felix and Oscar
Romeo and Juliet
Caesar and Cleo
Scarlett and Rhett
Robin and Marion
Fred and Ginger
Peter and Gordon
Ben and Jerry
Starsky and Hutch
Peter Pan and Tinkerbell
Sebastian and Flounder
Zack and Cody
Shrek and Fiona
Mary Kate and Ashley

R2D2 and C3PO
Tom and Jerry
Batman and Robin
Hans Solo and Chewbacca
Chip and Dale
Hall and Oats
Sherlock Holmes and Watson
Spongebob and Patrick
Thelma and Louise
Ren and Stimpy
Jack and Jill
Sonny and Cher
Kirk and Spock
Micky and Minnie
Donald and Daffy
Lilo and Stitch
Charlie and Snoopy
Laverne and Shirley
Shih Tzu Names Based on Previous Shih Tzu Puppy Buyers
The names of this list below are actual names given by Shih Tzu puppy buyers to give you some ideas to inspire your creativity.  You can also check out More top Shih Tzu names for more ideas.
Girls
Onyx

Miki
Joy
Chloe
Bambi
Mia
Leelou
Lyra
Mia
Daisy
Ginger
Tibbit
Rio
Bella
Dot
Princess
Aeryn
Moya
Raisin
Ebony
Roxie
Dani
Desi
Karma
Abby
Mabel
Sandy
Lady
Eva
Gracie
Daisy
Mulan
Zoey
Winnie
Ace
Sunny
Noelle
Sophie
Lola
Lowie
Chai
Hazel
Allie
Lucy
Pippi
Molly
Riley
Layla
Cosmo
Yori
Willow
Tulip
Cherry
Maddie
Cookie
Stevie
Passion
Brandy
Tibbit
Rio
Zara
LeeLoo
Mia
Lyra
Zoey
Thor
Meko
Miki
Yori
Ramona
Ginne
Sunny
Boys
Jake

Woody
Beau
Bentley
Bonsai
Tucker
Flick
Crighton
Rigel
Beans
Panda
Domino
Pongo
Doug
Shadow
Pooh
Sam
Romeo
Frankie
Oscar
Deogee
Andy
Ace
Koko
Mack
Ben
Lenny
Lester
Leeroy
Bailey
Gizmo
Teddy
Dill
Watson
Sochi
Finn
Franklin
Chase
Bango
Mickey
Buster
Gibby
Simba
Chewie
Barkley
Moby
Harry
Carl
Nelson
Doby
Vader
Doc
Reggie
Jake
Rocket
Oscar
Finn
Bister
Elf
Jingles
Chester
Banjo
Franklin
Sochi
Gibson
Watson
Did I forget to list your dog's name?  My apologies.  Just contact me and remind me to add it to the list.
Naming Your Shih Tzu
There are a five thoughts to keep in mind when naming that sweet fur baby. The name you decide should follow certain canine rules.  My Shih Tzu puppy buyers are extremely clever about their Shih Tzu puppy's name.  Here are some of those names that come immediately to mind.
1.  Dogs Hear the First Syllable

By that I mean that dogs tend to learn their names, but will only pay attention to the first syllable. If you ever wondered why we only use one syllable words when training such as sit, stay, come, or heel, it is for this very reason. So when your dog's name is Chocolate Smores, for example, the dog is going to hear "Chock." This does not mean that you must come up with a name that has only one syllable.  If you have more than one dog, consider each name careful. Dogs seem to know each other by the names we give them.

2. Consider the Human Names in the Household

The second thing to keep in mind regarding this first syllable rule is to choose a unique name that does not have the same first sound as another person in the household. This can be very confusing to the dog.
It is acceptable to choose a name with the same letter as long as the beginning sound is different. For example, it would be very confusing to two pets in the same household named Alexander and Alexandra. It would be OK to name two pets Abby and Alexander.
3. Remember, You will use her name frequently during training

A third thing to keep in mind is that dogs do learn their names and you should use their names frequently. When training a dog to perform a new trick, it's always easy to say the dog's name first, then the command. "Zoey, Sit."  
Using your puppy's name in a happy tone and praising them when they respond will go a long way towards training. Once the dog knows his name, it is much easier to call out the name and then a command.
4.  Choose a Name that Withstands the Test of Time

The Fourth factor to keep in mind when choosing a name is how well it will stand the test of time.  I once named a dog of mine, Geordi after a Star Trek character popular at the time.  By the time this little dog reached the ripe old age of 18, only die-hard "Trekkie" fans could relate to the name, even though the dog probably did not care.  
5. Assure You Love the Name

Finally, it is so important to understand that you will be calling your dog's name numerous times a day, in your own home and out in public. Make sure that the name you choose works equally well in the quiet of your home and on a noisy street.  
Think about how you will feel when your dog has gotten away from you and you are trying to retrieve it.   Can you see yourself yelling your dog to come home, "lovey-dovey-sweetie-pie, come home to mama."
Remember too, that others are likely to need to call your dog by his name.  Don't embarrass your vet tech, groomer, day care worker, or dog walker with names that they might not want to use in public.

What's the Story Behind Your Dog's Name?
Every name has a story to tell.  What's Yours?  Care to Share?
Just to get you started, I'll share a name I've chosen for dogs I've owned.
Clifford (a beautiful red and white Shih Tzu -- You'll find his picture scattered around this website.  His registered name is Clifford, my little red dog.  He's named after Clifford, The Big Red Dog (children's book and TV show).  Now it's your turn.
The Story Behind Your Dog's Name
How did you choose your dog's name. Please share your story.
What Other Visitors Have Written
Click below to see contributions from other visitors to this page...