Our Own Shih Tzu Rainbow Bridge

by Janice Jones     |Last Updated 06-24-2021
Our Shih Tzu Rainbow Bridge is dedicated to all of those amazing pets that have shared our lives.  Help us play tribute to our lost but not forgotten friends.
If you have ever shared your life with a dog, a Shih Tzu, you understand the pain we all share when our beloved pet passes on without us. 
It is a sad time for us.  We grapple with the fact that their short lives have meant so much to us.  We question why this has to happen.  We grieve their loss.  Eventually, we move on, but not without some tears and many sad moments. 
This page is devoted to all of those wonderful Shih Tzu dogs that have warmed our laps, followed us on walks, comforted us when we were down, and rejoiced in our happiness.
Won't you please consider adding your favorite Tzu that has touched your life in one way or another.  Tell their story and keep their memory alive.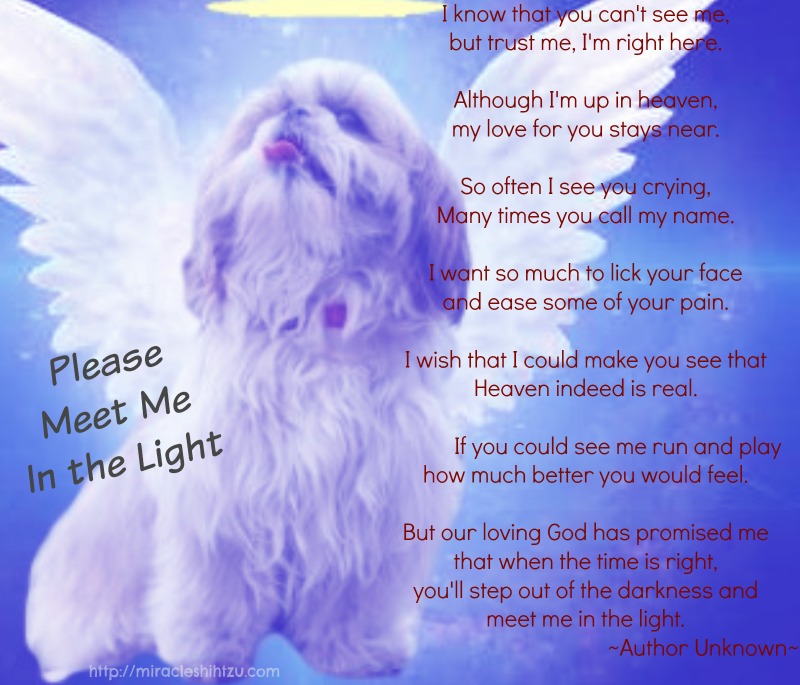 ---
Poems and Stories to Inspire

Shih Tzu Rainbow Bridge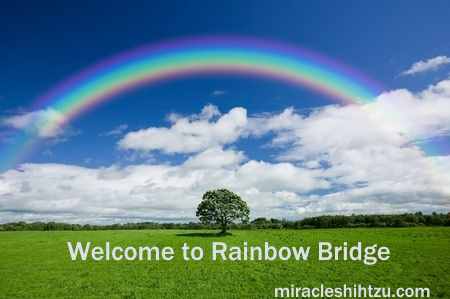 Inspired by a Norse legend
By the edge of a woods, at the foot of a hill,
Is a lush, green meadow where time stands still.
Where the friends of man and woman do run,
When their time on earth is over and done.

For here, between this world and the next,
Is a place where each beloved creature finds rest.
On this golden land, they wait and they play,
Till the Rainbow Bridge they cross over one day.

No more do they suffer, in pain or in sadness,
For here they are whole, their lives filled with gladness.
Their limbs are restored, their health renewed,
Their bodies have healed, with strength imbued.

They romp through the grass, without even a care,
Until one day they start, and sniff at the air.
All ears prick forward, eyes dart front and back,
Then all of a sudden, one breaks from the pack.

For just at that instant, their eyes have met;
Together again, both person and pet.
So they run to each other, these friends from long past,
The time of their parting is over at last.

The sadness they felt while they were apart,
Has turned into joy once more in each heart.
They embrace with a love that will last forever,
And then, side-by-side, they cross over… together.
---
The Dog:  Shih Tzu Rainbow Bridge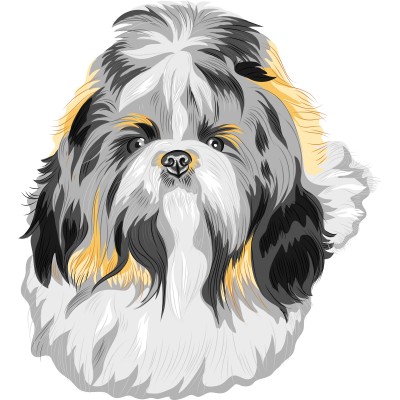 ~Author Unknown~
When God had made the earth and sky,
The flowers and the trees.
He then made all the animals
And all the birds and bees.

And when His work was finished
Not one was quite the same.
He said, "I'll walk this earth of mine
And give each one a name."

And so He traveled land and sea
And everywhere He went,
A little creature followed Him
Until it's strength was spent.

When all were named upon the earth
And in the sky and sea,
The little creature said "Dear Lord
There's not one left for me."

The Father smiled and softly said
"I've left you to the end,
I've turned my own name back to front
And called you Dog my friend.'
---
Now, It is Your Turn...
Our Very Own Shih Tzu Rainbow Bridge

Consider adding your dog to our ongoing list of special dogs that have passed on before our time. 
Tell us their life story, anything you care to share.  Let us know why they were so special and always should be remembered. 
I've started this thread with my last Shih Tzu, a boy with quite a history.  Please add to this and memorialize your dog too.

"Kwailuh Ci"
Her official name was "Kwailuh Ci" which means Happy Occasion in Chinese.  We called her KC.  She was a a classic Shih Tzu in every way.  She was up for any activity, anything we wanted to do was fine with her as long as she was included.  She loved to "go for a ride".  Road trips were her specialty.  When we drove from Ohio to Colorado, we'd stop every two hours - KC would take a quick break, do her stuff, and was back in the car "Let's Go".  Most importantly, she was always friendly, to other people, dogs, cats, horses, etc (except maybe squirrels).  It's hard to remember life before the seventeen years she spent with us.

Want to add your dog to our Shih Tzu Rainbow Bridge?
While it is so very said that your Tzu has passed, it is equally healing to add their story here.
What Other Visitors Have Said
Click below to see contributions from other visitors to this page...