ShihTzu Breed Selector Quiz

by Janice Jones     |Last Updated 05-06-2021
Thinking about that new Shih Tzu?
Complete our Shih Tzu Breed Selector quiz to find out if this breed is right for you.  
Each question has a simple true or false answer. 
Be honest about your situation, your lifestyle and personality as well as the true reasons for wanting a Shih Tzu.
This little breed selector quiz is meant to be printed out and filled in by pen or pencil.
After you chosen the answer that best describes you, click on the link below to read the answers and explanations to each question. 
Remember, no breed is perfect, but most people who want a dog will find a breed that is most compatible with their life style and personality type. 
The questions on this Shih Tzu Breed Selector Quiz are based on our personal experience of living with and loving a "herd" of Shih Tzu dogs.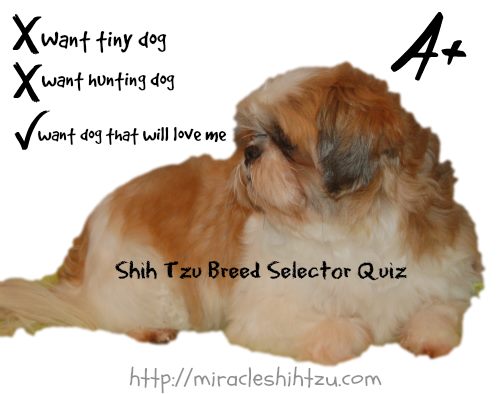 ShihTzu Breed Selector Quiz
Questions

1. I want a tiny dog that I can carry around in my purse.

    TRUE          FALSE
2. I need a dog that is mostly hypoallergenic because I have allergies.

    TRUE           FALSE
3. I want a dog that will make a good jogging partner for me.  I enjoy a good 3 mile run each day and would love canine company.

    TRUE          FALSE
4. I want a dog that will be happy to live in an apartment.  I don't plan to move to a large home in the foreseeable future.

    TRUE           FALSE
5. I want a dog that will protect me from intruders.  I need a guard dog because we live in an unsafe location.

    TRUE          FALSE
6. I enjoy pampering and grooming dogs.  I can see myself brushing and combing a puppy every night.

    TRUE          FALSE
7. I want a dog that doesn't require much grooming.  I hate brushing and bathing a dog and I don' have enough extra income to pay for a professional groomer.

    TRUE          FALSE
8. I have a lot of patience when it comes to training. I know that dogs, like people need more than one practice to learn a skill and I have the time to teach basic commands and other manners.

    TRUE          FALSE
9. I work long hours, but I bought a crate where my Shih Tzu can stay stay until I come home.

    TRUE          FALSE
10. I know I will still want my dog to be with me in 15 years. I wish dogs would live as long as humans do.

    TRUE          FALSE
11. I want a dog that will follow me around everywhere.  I love the thought of a constant companion to keep me company.

    TRUE          FALSE
12. The main reason I chose I Shih Tzu dog is so I could teach my children how to be responsible.  I plan to have my children feed, water, groom, and take the dog out when she needs to go out.

    TRUE          FALSE
13. I don't have much money for stuff like toys,  premium food, or vet care, but I will give a Tzu a good home.

    TRUE          FALSE
14. I have little tolerance for stubborn dogs.  Stubbornness annoys me.

    TRUE          FALSE 
15. I want a dog that doesn't bark.  Or, at least barks so infrequently that I do not notice.

    TRUE          FALSE 

OK,  how do you think you did?  Do you really know this breed well?  It's time to check your answers and the rationale behind the questions and answers.