Miracle Shih Tzu Breeding Plan
by Janice Jones MA           |Last Updated 04-28-2022
Why even have a breeding plan?  Aren't all dog breeders alike?  Doesn't everyone do things the same way? The quick answers are because, no and no and let me explain.
A wise person once said if you fail to plan, you plan to fail.
AND, I don't like to fail.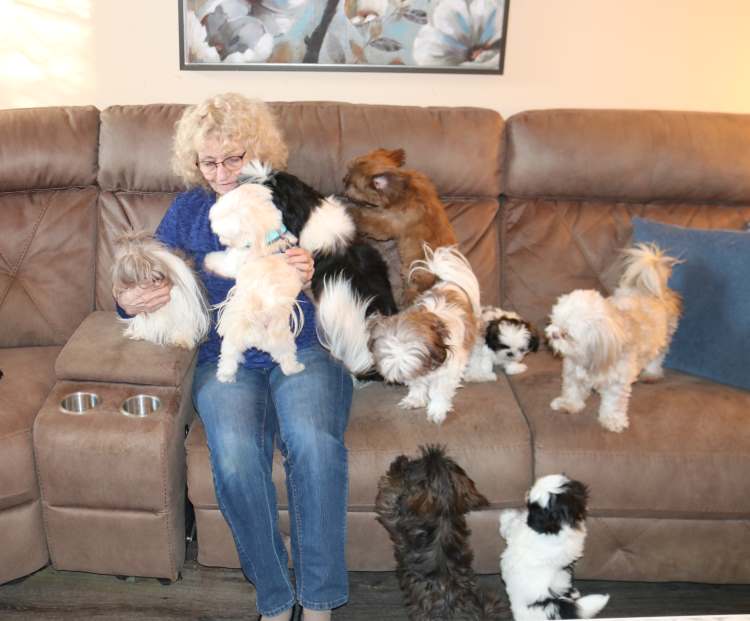 The Basis for Miracle Shih Tzu Pup Breeding Plan
Our Miracle Shih Tzu Breeding Plan has been formulated based on  genetics, psychology, and animal husbandry and is constantly updated as new information becomes available.  Breeding dogs is truly a combination of art and science.  An understanding of veterinary medicine, best practices, and genetics is just the beginning.
If you are curious about all the hats a breeder must wear, check out my dog breeding article to see just what SHOULD go into a breeding program.
It not only involves decisions about which dogs mate to who, but also when and even how.  When planning we look at many different factors such as the strengths and weaknesses of the parents, the health status of the dame and sire, and the available time we need to adequately care for a litter.

Why is Miracle Shih Tzu Unique?
It's a family affair.  We all chip into help make sure our adults are well cared for, exercised, trained and happy. 

Happy, stress-free adult dogs make happy adjusted puppies.
But it's much more than a family working together to take care of dogs.  Any family should be able to do that.  Breeding dogs requires hard work, but it also requires education, experience, and a keen sense of dog welfare and psychology.  Please feel free to visit my about me page to learn more about my educational and work background.
The most important thing that you should know about our Miracle Shih Tzu Breeding Program is where we house the dogs and puppies.  All of our dogs live in our home.  We do not have a kennel.  All of our breeding dogs are our pets just like those dogs who also live here and have been neutered or spayed. 
The puppies all live in four by eight foot enclosures set up in our former dining room.  Each mom has her own area and includes bedding, pee pads, food and water bowls and lots of toys. As the pups mature, they are given more space to romp and play, and have access to other areas of the home and outdoors.  This is always an exciting time.  You learn just how curious or timid puppies can be so we can best describe the pups' personalities to potential puppy buyers.
Socializing the Puppies
The Miracle Shih Tzu Breeding Plan puts a high priority on socialization.  This process includes a variety of procedures that we go through to give the most stimulation without overwhelming them. 
This might include adding new toys and objects daily, switching out textures and walking surfaces, feeding them in different types of bowls and adding tiny tidbits of treats to their diet.  It also means taking them outdoors weather permitting, and spending one-on-one time with each pup just to get to know them as individuals.
They take a ride in the doggie stroller, check out grass and dirt and learn what it is like to walk on concrete, wood and tile.
We give them plenty of opportunities to play with all the older dogs and meet the cats.  Sometimes we even introduce them to the goats next door.  As people come and go, we encourage them to hold and play with the puppies. 
Different types of sounds are introduced throughout the time they spend here.  By the time they are ready to go home, they have achieved a degree of confidence that makes it easy for them to adjust to their new home.
Feeding and Supplements
We feed top quality food premium brand dog food to all of our dogs.  We believe that a high quality diet that does not include grains such as corn, wheat and soy are more appropriate for the overall health of our dogs.  We normally rotate our food about every six months so what I might be recommending to you one day will be different the next.
Supplements are given on an as needed and individual basis. NuVet is our choice supplement, but occasionally we also give them Salmon Oil, especially in the winter when the air is dry and the coats tend to dry out.
Exercise and Grooming
Our dogs get regular exercise inside our home and on our five acres outdoors. Weather permitting; puppies go outside around 6 weeks of age on a daily basis.

Our puppies are groomed from an early age to make your job of grooming a little easier.  By the time your puppy reaches 8 weeks of age, he has had at least two and often three or more baths, nail clips and been introduced to other grooming tasks such as cleaning inside their ears, brushing their teeth, removing hair from their foot pads and a sanitary clip.
Health Care and Wellness
Puppies receive regular vaccinations and veterinary care as needed.  We start our vaccination program between 6 and 8 weeks of age, so your puppy will have received his first set and often two sets of shots before you take him home. They visit my vet for the first time at 8 weeks of age and as needed if problems arise.
We worm at 2, 4, 6, and 8 weeks of age and worm for intestinal parasites including worms, Coccidia, and Giardia. We provide you will a health guarantee and life time support.
Safety
Safety is always a concern when you have many dogs running around and when puppies add to the mix, it can be crazy.  We try to keep everyone safe by puppy proofing and removing any objects that might not be safe for puppies both indoors and out.  Another very important component of our Miracle Shih Tzu Pup Breeding Plan is our Emergency preparedness.
We also maintain an extensive emergency plan should we need to evacuate or shelter in place.  This plan has been approved by AKC and anyone can view it at my home.

Registration Information
All of our purebred puppies are sold with limited AKC registration and are considered to be of pet quality.  We do not make any guarantees of show quality in any of the puppies we sell. We are an AKC Inspected Facility.

Contact Me
The Best way to reach us is through e-mail and filling out the form below.  We answer all emails within 24 hours unless there is an emergency.  If you haven't heard from us within 24 hours, please return and fill out the form below again.