Oyr Prapso is now 8 and everyone loves him
by Steve
(Cayman)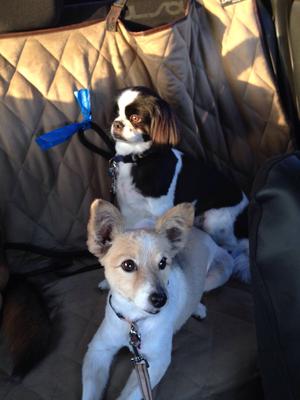 We have had Weechee since a puppy, he looked just like the rest of this litter,but he was more quiet and less fluffy around his eyes. He is a registered Shihtzu, but is often mistaken for a king Charles due the very short hair on the face.

I think he looks closer to the Japanese Chin with his colouring.

Temperate wise he is awesome, so laid back,and when he runs he bounds like a lamb, you can't help smiling as he looks so cute.

We had great difficulty training him though ,as he is stubborn as hell. He loves to sing and at doggie day care, his singing can prompt half the pack to start howling and singing to.


----------------------------------------
Hi, Janice Here from Miracle Shih Tzu
----------------------------------------
Hi Steve and thank you for sharing your beautiful Weechee with us. He looks so sweet but I guess that stubborn streak that all Shih Tzu dogs share has not been spared on the Prapso. Too bad!!

I agree that he looks a lot like a Japanese Chin but I also see a striking resemblance to a King Charles as well. Many people think they look like Pekingese, but unless you have that Peke coloring it is hard to see that in some.

Thanks again for sharing. He is adorable.