PRAPSO
by Stacy Kuhlmann
(Montgomery Louisiana USA)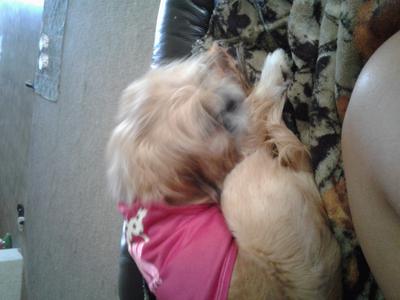 I bought mine from a breeder She is now 5 months old and at first, I thought they sold me a dog that wasn't a pure Shih Tzu.

Even the groomer was puzzled because she just doesn't look like a Shih Tzu. So I decided to do some research on a Shih Tzu that didn't need to be trimmed. A short-haired Shih Tzu, does it really exist? And then I found these puppies and started reading, and my Sandy is just like this. I was like wow!

I am so glad I found out what she was no matter if she looks totally different than her sister Gracy which has the long hair. We love her just the same. I think this is why she didn't sell as fast as others because she does look different. She is amazing.

---------------------------------------
Hi, Janice here from Miracle Shih Tzu
----------------------------------------

She is a real cutie, and I'm betting she is also very smart. I had a litter recently that had two Prapso puppies and was that ever a surprise.

I thought that I had figured out where the genes to produce these puppies came from but was not expecting them to pop up from the great-grandfather's side. It could have come farther down the line than that. So you just never know when you might end up with a Prapso.

I've attached a couple of photos from my current litter under your photo. Cookie will be going home to her forever home soon, but I just wanted to say, she either a full or partial prapso.

She was also the smallest one in the litter and probably the smartest, if not the most clever. She's kept her siblings on their toes (I mean paws). Guess who was in charge of this litter?

Yup, you guessed it, the Prapso.

Join in and write your own page! It's easy to do. How? Simply click here to return to Prapso Puppies.