Puppy Bath Video Tutorial

By Janice Jones     |Last Updated 02-13-2020
A puppy bath can be a fun bonding experience for both you and your dog, but unfortunately it is often stressful for the puppy and an unpleasant chore for you.  It doesn't have to be.  Even the squirmiest puppies can learn to tolerate if not love the experience over time.
This will not happen overnight and most puppies require many experiences before they can fully relax.  

Not all puppies will respond to their first, second or even subsequent baths  but don't get discouraged if you have an excitable puppy.  Gentle, firm consistent training from you will turn them into a  relaxed pampered pooch superstar.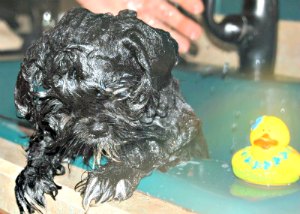 Supplies You Will Need for a Puppy Bath
Sink or tub with easy access to water
Towel
Shampoo
Conditioner, optional
Small cup or bowl to dilute the shampoo
Cotton balls, optional (to place in the ears)
How to Bathe a New Puppy: Procedure
Assemble all of your supplies before picking up your puppy
Dilute shampoo with warm water using a small bowl or cup
Adjust the water temperature first before placing the puppy in the sink
Wet the puppy down starting with the neck down to the tail, then gently wet the head, face, ears last
Pour part of the shampoo on the puppy's neck, back, tail, saving the rest for the legs, paws and face
Lather and massage the shampoo into the coat
Add more shampoo to the legs and finally the face.  By this time, your puppy is used to the water and shampoo and won't fuss so much about the shampoo on his head, face and ears.  You will get the most resistance when trying to wash the beard and whiskers.  Be careful to avoid getting soap near the eyes.
Rinse with fresh water, again being careful to avoid getting water/soap in the eyes or nose.
Squeeze off excessive water
Wrap in a towel and pat dry.  Do not attempt to rub the puppy dry.  It might not be an issue when the puppy is young and has short hair, but as he grows, rubbing the coat roughly with a towel may cause tangles.
Use a hairdryer to dry and style the hair coat.
Puppy Bath Video Tutorial
In this puppy bath video tutorial, we will show you how we bathe an 8 week old puppy.  Puppies can present a special grooming challenge in that the experience is new to them and they have a very short attention span. 
They will show their discomfort by squirming and trying to jump out of the tub or sink.  Either can be very dangerous to a small puppy.  A firm but gentle hold on your puppy at all times is an absolute must.
By providing gentle, positive reassurances and reinforcements, a puppy can grow to enjoy all grooming tasks.  It also helps if you have a food motivated puppy to have some tasty treats nearby to give throughout the bath.  Chewing a treat also distracts them while you finish the bath.  
I've also been told by a couple of people that they spread something tasty such as peanut butter on the side of their sink which also serves to distract.
The puppy in this video is very calm, a trait that he inherited from his cool dad, Mr. Kool Beans. 

---
Puppy Shampoos
for your Puppy Bath

Not sure which shampoo to use on your new puppy?  There are so many shampoos on the market today that it is very hard to decide which one to choose.

We have used a variety of different ones including the ones featured below.  These puppy shampoos can be purchased from Amazon and you can help support the cost of this site by clicking and purchasing directly from this page. 

---
Perfect Coat Puppy Shampoo, 32-Ounce, Baby Powder Scent
A Great all-round, nice smelling shampoo for a puppy or use it as a face cleaner on an adult dog.
---
Fresh'n Clean Pet 2-in-1 Baby Powder Formula Conditioning Shampoo, 18-Ounce
This is a 2 in 1 product which is great for a puppy when you don't want to or need to add an additional conditioning rinse. Smells great too.
---
Bio-Groom Fluffy Puppy Shampoo, 12-Ounce
Bio Groom makes many different quality products. This one gets the dog extra clean and smells good too.
---
Fresh Dog Dry Shampoo Powder for Dogs and Puppies, All Natural, 12 ounces
A waterless shampoo is a great product to have on hand when you just don't have time for a full bath.
Frequently Asked Questions about Bathing a Puppy
Here is a list of questions that I have been asked numerous times.  If you have a question that is not part of this list, please feel free to contact me and I will try to answer your questions.
When can you give a puppy his first bath?
Puppies can be bathed as young as six weeks as long as the room and water temperatures are warm enough to avoid chilling the puppy.  Use a calm voices and use one hand under his chest with the other hand free to add water and shampoo as necessary.  It is best to use a shampoo especially made for puppies.  Adult shampoos may burn eyes and human baby shampoos are not suitable because dogs need a different ph based shampoo.
Puppies do get dirty so a bath is often a must.  There are alternatives, however such as spray on dry shampoos that will deodorize and clean the hair fairly well.  A good brushing will also remove dried dirt.  
Can I use baby wipes on my puppy?
Baby wipes should be fine for use on your puppy or if you prefer, you can buy specifically designed puppy wipes.  Baby wipes are especially helpful for wiping off muddy paws and dirt that may collect between the paw pads.  They are also good for wiping off whiskers or messy butts.  I would use a wash cloth or paper towel moistened with warm water around the eyes and face rather than using a scented baby wipe.  The chemicals used in baby wipes should not get into a Shih Tzu's eyes.
Do I need to use conditioner after shampooing a puppy?
Puppies generally do not need additional conditioners because they have natural oils in their hair coat.  If they do have a dry coat or skin, it is perfectly OK to add a conditioner or cream rinse after shampooing. DO NOT use a human conditioner because dogs have different ph levels than humans.  
Conditioners can make the coat glossier and fluffy and will help detangle any small mats.  Always rinse thoroughly as too much conditioner remaining on the coat can weigh it down.
If you do decide to use a separate conditioner, dilute it using warm water before pouring over the coat.
Another alternative to conditioners in the bath are those that you spray directly on the hair after the bath and before brushing.  This type of dog conditioner is recommended for brushing dry hair coats for both puppies and adult dogs.  There are many excellent spray on conditioners on the market or you can make your own by adding about a teaspoon of dog shampoo to 8 ounces of water.  Pour the mixture into a spray bottle and always shake well before applying.
How often should I bathe my puppy?
Puppies can be bathed weekly or more frequently if they get dirty.  If they are getting brushed and combed regularly, a bath about every 3 weeks is normally enough to keep them clean and smelling fresh.  Always assure that the shampoo has been rinsed completely.  They should feel squeaky clean.
Can I use a human shampoo on my puppy?
This is not recommended.  Shampoo is formulated based on the ph of the skin. A dog's skin is more in the neutral zone of 6-7 ph.  Human shampoos are more acidic and can cause some discomfort for the dog.