Meet our Miracle Shih Tzu Moms

Last updated June 18, 2019
Meet Our Shih Tzu Moms and all the other Ladies that keep us company and allow us to live in their home.  
Scroll down to the bottom of the page to see our little girls. 
These gals are first and foremost our family pets.  They live in our home and many enjoy sleeping with us or my kids.  They are not for sale.
Questions?  Please Contact Me
---
Miracle Shih Tzu Moms (Current)
Lucy in The Sky with Diamonds

Here's our little Lucy in the Sky-- She is a rare Blue with a super thick coat that resembles Shotgun metal.  She loves everyone and still retains her puppy exuberance.  Her favorite games are keep away and fetch. When it comes time to have babies, she gives it her all, complete with rounding up every toy in the house to give to her puppies.

Miracle's Gabriella Gal
Gabby is mostly brindle with a little white and has a variety of other colors in her pedigree.  She is daughter to Toby Tao and resembles him in appearance.  She is a devoted mom, loving pet, and an all round great dog.  She loves everyone she meets but seems to prefer men over the ladies in her life.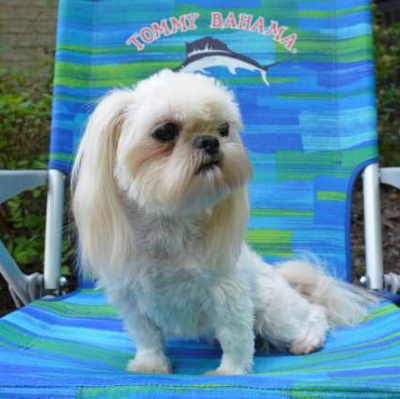 White Shih Tzu girl, Princess Leia
Princess Leia
Leia is a smallest mom at about seven pounds, but what she lacks in size, she makes up for in personality.  Very loving and always wants to be by your side.
---
Our Retired Shih Tzu Moms
Here are a just a few of of our retired moms.  I have taken down the pictures of some of our older retirees.
Miracle's Hanna Savannah

This is our little Hanna Savannah, daughter of our retired Smores and Handsome Mr. Kool Beans (who has passed on).

She is gold with a black mask, but throws liver babies. Her hair has been known to change from golden to a red-orange.   She is my adventurous girl--likes to find a challenge and always on the go--especially if it means a quick run, a fast game, or a neck rub.
Retired and Rehomed
---
---
---
Recommended for You

Grab our Newsletter 
"Tzu Tips"
Get the latest on everything Shih Tzu.  Sign up today for our monthly E-zine.  It's free!

Come, Be Social With Us