Our Shih Tzu Moms (Dams)
Our Shih Tzu Moms   |Last updated 04-26-2022

This page is all about the girls.  If you'd like to meet some of the boys, you'll have to check out our Shih Tzu Sires Page.
We pride ourselves in finding the best parents for our puppies.  Here you will meet all the mamas that live at Miracle Shih Tzu Pup.
These gals are first and foremost our family pets.  They live in our home and many enjoy sleeping with us or my kids.  They are not for sale.


The Shih Tzu Moms
Meet AKC Registered Richmond's Poppy Longstocking
Poppy is super friendly, greeting everyone she sees as her old lost friend. She's also entertaining, lovable, and ready to please.  

She is Championed Sired with a gorgeous thick white and gold coat and great conformation. Be prepared to play fetch with Poppy when you visit because she won't let you leave until you do.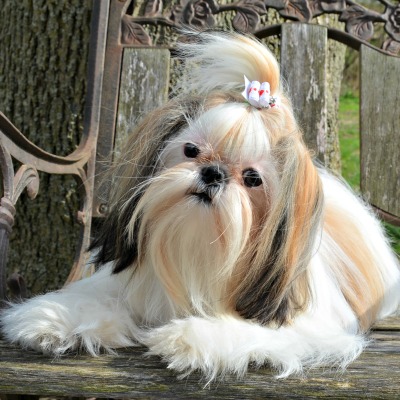 Meet AKC Registered Miracle's Coming Up Roses (aka Rosie)
Rosie is a super sweet lavender girl who just wants to be loved by anyone. 
She is also one of our most fun-loving dogs, always ready to play with a human or one of her canine pals. She makes gorgeous liver colored and lavender colored puppies who have the best personality.  Now, in the process of being retired, she will remain in our hearts forever.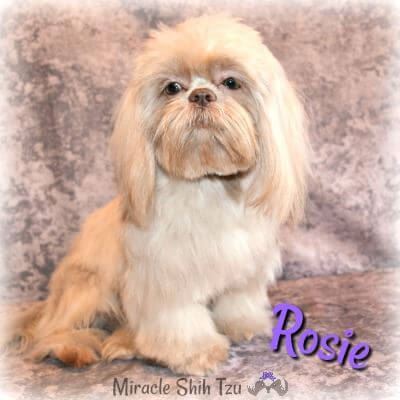 Meet AKC Registered Miracle's Cherries Jubilee (aka Cherry)
Cherry was born here at Miracle Shih Tzu to our Blue Shih Tzu, Lucy and Liver and White Ketchikan Joe. At only 8 pounds, she's a lightweight.  She's charming, and a devoted mother.  She's a liver and white Shih Tzu who normally produces puppies that are below the breed standard. One of our most devoted moms, she brings out the best in her puppies.

Meet AKC Registered Princess Leia
Leia is a smallest mom at about seven pounds, but what she lacks in size, she makes up for in personality.  Very loving and always wants to be by your side. She's truly our Diva girl who doesn't mind getting dressed up from time to time in frilly frocks.  She's about to retire, but may still have a litter or two to love on and enjoy before retirement.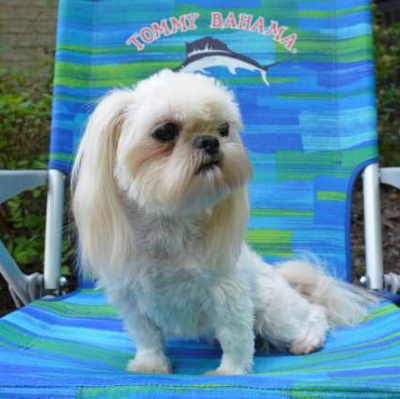 AKC Miracle's Blowing in the Wind (aka Breezy)
Breezy is a lovely blue and white girl, super loving and cuddly and very healthy.  She is the half sister of Cherry (above), both are daughters of our now retired Lucy in the Sky with Diamonds.  You couldn't ask for a more lovable little girl, though quite shy around strangers.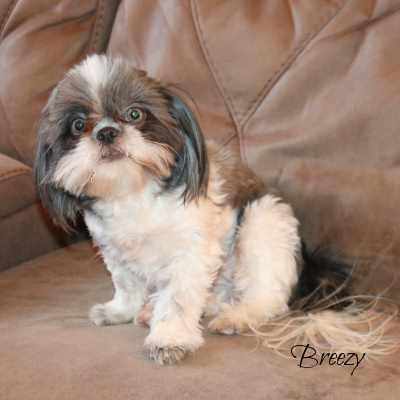 April
Here's our friendly, playful April, a stunning black and white female with a great personality and superb conformation.  She's got the thickest coat and comes from a line of show dogs from Russia.   She is of standard weight, so her puppies are normally in the range of 14 to 16 pounds as adults.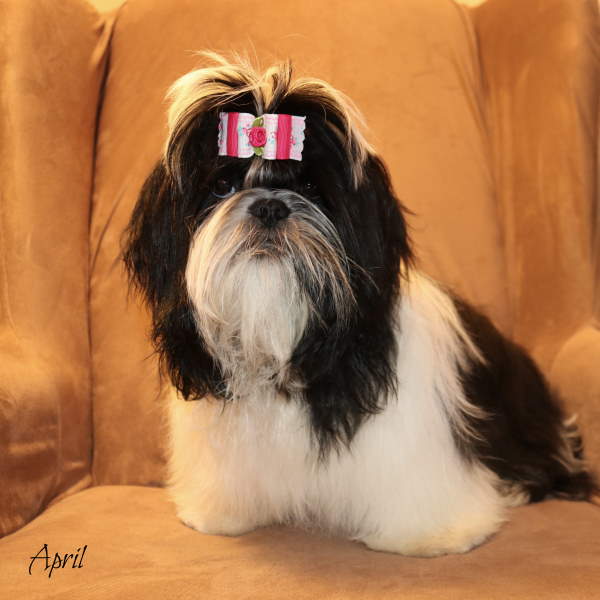 Ruby
Ruby is our youngest mom as of this writing, a stunning brindle colored girl with a big personality.  She loves attention but is also quite happy to play with her canine friends.  We haven't found a toy she doesn't cherish and has proven to be a superb mother producing a variety of stunning coat colors.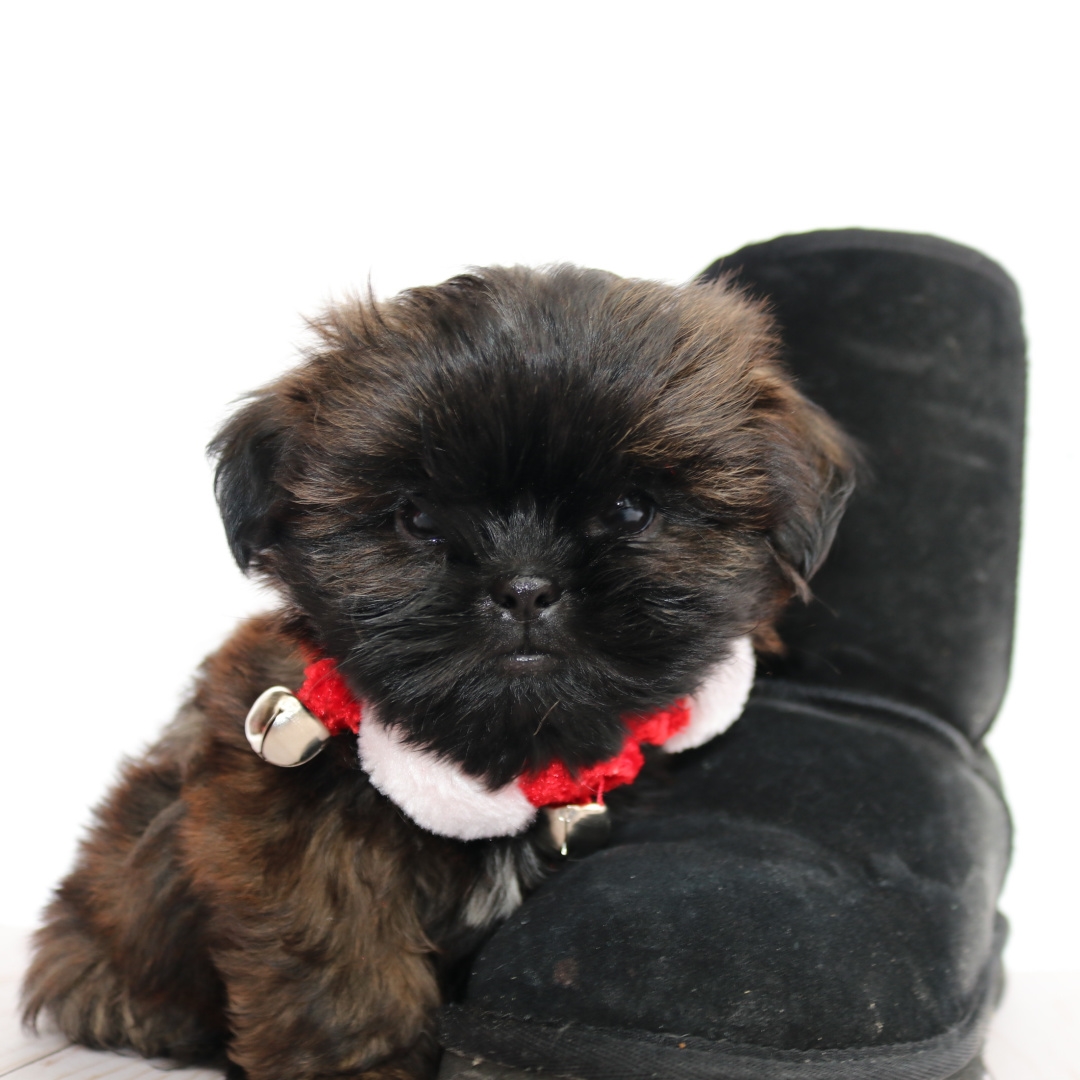 Ruby When She was a Puppy
---
Our Shih Tzu Dams along with our Sires deserve and receive all the love and attention that any pet should get.  Regular routine vet care including immunizations, worming , heartworm and parasite control.  Health concerns are addressed immediately and all parents receive daily supplements including NuVet Plus. Grooming is done onsite and with the help our professional groomer, parents have plenty of space indoors and out to play and exercise and loved and cherished just as you would do for your own pets.
We are truly blessed to have such a wonderful canine family who shares our home.
In Addition to Shih Tzu Moms, Please Check Out These Other Resources