Awesome Autumn Puppy Names
For that new Fall Dog

by Janice Jones     |Last updated 07-06-2021
This list of Autumn Puppy Names was inspired by the birth of a recent litter of five little Shih Tzu puppies just as the weather began to change. 
Cooler days, crisp nights and gorgeous colors on the trees surrounded us.  I was sad to see the long days of summer come to an end and know that the cold and snow of winter would be upon us before long. Nevertheless, the Fall Season has so much to offer us in terms of colors, activities, favors, and fun.

I thought it would be fun to create some fun fall names for puppies. (Just to help us remember those lovely autumn days). AND, we had five stunning pups to name.  So we decided to do some brainstorming to find some fitting fall names.
When you think of autumn, what images emerge in your mind?  Fall foliage, harvest, festivals, hunting, families and feasts, football?
Perhaps school, homecoming, and new fall wardrobes are more your style.  For us in the north east, there is much to admire in nature—the colors, wildlife, even the harvest moon. We conjured up images of roasting marshmallows in a bonfire, drinking mocha and making smores.
We only had five puppies to name, but many more names came to mind.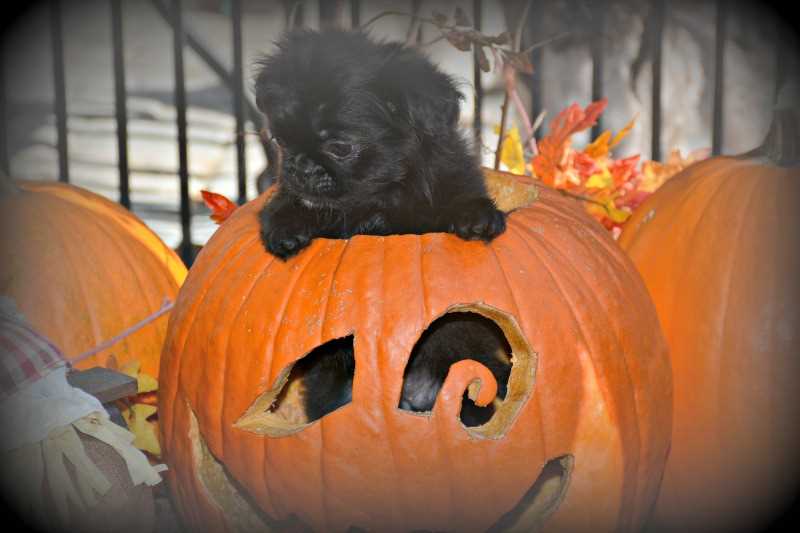 We picked names that remind us of the stunning reds, yellows, and golds of autumn such as Ruby, Crimson and Cinnamon. 
We looked at the holidays that fall within the season to come up with the names Ghost, Boo and Mayflower. (Incidentally, we shied away from the darker side of Halloween)
We brainstormed treats we associate with fall such as Cider, Pumpkin, and Cranberry.  Trees surround our home, so dog names based on trees seemed perfect.  
Inspiration is everywhere:  When your roof is under constant deluge from falling acorns, that name just well, fell into place.    
Let your imagination go wild!  Please let us know if you have any special names that would be perfect for a puppy born in the Fall.  Use the contact form at the bottom of the page and be sure to let us know that you have a perfect Autumn Puppy Name to add to our list.
Autumn Puppy Names A to Z

A—C

Acorn
Amber
Aspen
Autumn
Barley
Birch
Blaze
Bonfire
Boo
Breezy
Candy
Cappuccino
Cedar
Chestnut
Cider
Cinnamon
Cobweb
Cocoa
Copper
Cranberry
Crimson
D—L
Frank (enstein)
Ghost
Ginger
Goldie
Gusty
Harvest
Hawk
Haystack
Hazel
Hornbeam
Hunter
Indie
Jack (o-lantern)
Latti
Luna
M—R
Maize
Maple
Marshmallow
Mayflower
Mocha
Nutmeg
Pumpkin
Red
Rose
Ruby
Russet
Rusty
S—Z
Salem
Scarlett
Sienna
Sita (Hindu harvest goddess)
Smoke
Smores
Spice
Spider
Scorpio
Storm
Sunflower
Sycamore
Tawny
Trixie
Virgo
Walnut
Willow
Woody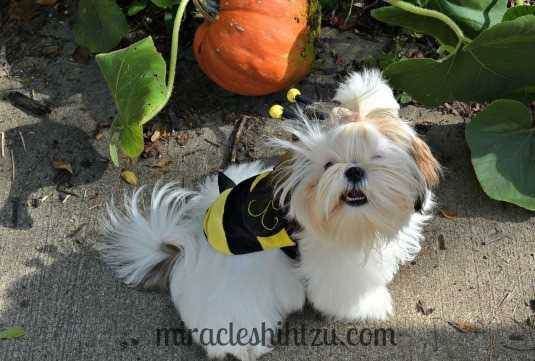 Would you prefer something a little more spoky?  Check out my list of Halloween Dog Names.  You're sure to find some a bit creepy.
Do you have a perfect Name for our list?  Please share.   Contact us with your suggestions.  In the comments section of the form below, please add the words:  Autumn Puppy Names in addition to your suggestions.

More Shih Tzu Dog Name Ideas

New Shih Tzu owners will choose a name based on a specific criteria:  They like the idea of a girl or boy name, a Chinese dog name, or something that has something to do with a personality quirk.
Many owners will name their dog based on a favorite pop star or something that is unique to their lifestyle.  Most Shih Tzu puppy buyers I have found are fairly traditional and will pick a popular name that is familiar.
Visit Shih Tzu Puppy Names for some ideas.
Find a comprehensive list of dog names at Small Dog Place