Names for a Brown Dog:  Find the Perfect one for Your Pooch

by Janice Jones     |Last updated 02-13-2020
Names for a brown dog are not difficult to imagine.  Naming your brown dog based on her color is not only popular; it adds a tint of style to your lovely brown dog.

With the Shih Tzu breed, the brown color is often referred to as chocolate and is accompanied by liver points. 
Points refer to the color of a dog's nose, the rim around the eyes and mouth and the paw pads.
A solid chocolate puppy is stunning, but not all Shih Tzu puppies will retain the deep dark chocolate color throughout their life.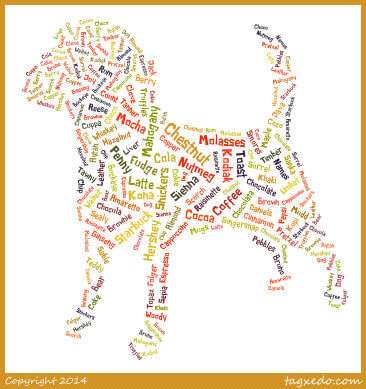 Some will, but most lighten up creating a rich blend of browns, fawns, and creams.  If the dog has the liver pigmentation, that will not fade. 
Once a brown nose, always a brown nose!

We've compiled a list of names for a brown dog that would work well with any brown dog, not just the Shih Tzu. 
Where did we get our inspiration? 
To give you a little hint, I think we were rather hungry (or thirsty) when we started compiling the list.
We thought about candy—rich dark chocolate, caramels, and creams, and of course the nuts that go into those fine chocolates, then diverged, to brainstorm all of those "brown colored drinks" we know and love.  While on the subject of food, many other ideas popped into our brain, but we didn't stop there.
Nature abounds with rich hues of brown. 
Trees, plants and flowers as well as the rich assortment of wood they produce all add to the fun of naming a brown dog.
Speaking of nature, autumn brings out wonderful arrays of deep browns and lends itself to inspiration. 
Metals also come in stunning shades of brown such as Copper, Penny, and Bronze.
Where did all the rest of the names come from?  Well, you be the judge.  Let the list be a starting off point to inspire the creativity within you to find the perfect name for your brown dog.

Want to name your brown Shih Tzu a name fitting her royal color?  Here is a list of names based on the color brown.  They can be used to name boy and girl dogs.

Warning, this list, contains irresistible flavors that might make your mouth start to water!
This little lady is a brown brindle Shih Tzu with black points.  Notice her nose is black.  She needs a perfect name to highlight her lovely brown coat.

Names for a Brown Dog

Acorn
Almond Joy
Amaretto
Autumn
Bailey Cream
Bronze
Brownie
Brown Bear
Bruno
Buckeye
Buster Brown
Cadbury
Café Noir
Cappuccino
Carmelo
Charlie Brown
Chestnut
Choco
Chewbacca (Chewy)(Chocolate) Chip
Cinnamon
Clove
Cocoa
Coco Puff
Coffee
Coffee Bean
Cola
Cookie
Copper
Count Chocula
Cuppa
DeCaf
Dunkin
Dusty
Eclair
Espresso
Fawn
Fondue
Fudge
Folger
Godiva
Gingersnap
Gravy
Hazel
Hazelnut
Hershey
Hickory
Honey
Jack Daniel
Java
Kahlua
Khaki
Kisses
Kitkat
Kodiak
Kona
Kopi
Latte
Leather
Mahogany
Meatloaf
Mocha
Molasses
Molly Brown
Muffin
Mudd
Mugs (Muggles)
Nestle
Nutella
Nutmeg
Oatmeal
Peanut
Pebbles
Penny
(Dr.) Pepper
Pepsi
Pretzel
Puddin
Raisinette
Reese
Riesen
Rocky Road
Rolo
Rufous
Russet
Rusty
Sable
Saddle
Sahara
Sanka
Sealy
Sepia
Sienna
Smores
Snickers
Sorrel
Starbuck
Sundae
Tadder
Taffy
Tanner
Teak
Teddy Bear
Tawny
Toblerone
(Toby for short)
Tootsie Pop
Tootsie Roll
Truffles
Twix
Toast
Umber
Walnut
Whiskey
Wonka
Woody
More Dog Names