Living with a Shih Tzu:  Creating a Palace for your Royal Shih Tzu
Living with a Shih Tzu     by Sarah Hollenbeck     |Updated 07-15-2021
Any Shih Tzu owner knows that these dogs were once the pets of royalty, and they know it! With their glamorous manes and big, doe eyes, your first Shih Tzu will lay claim to your heart for years to come.
Since Shih Tzu are a small breed, providing them with enrichment is a little different than it is with large breed dogs. Your Golden Retriever may have been up for hours of fetch in the backyard, and your Shih Tzu may be just as energetic! But small dogs have their own special set of needs that may be very different from larger dogs.
Shih Tzu are often the choice of pet owners who live in smaller spaces, apartments, or owners who spend more time indoors. If that's your case, it may be a good idea to incorporate some new features into your home to make your life easier and your pup's life more enjoyable. After all, just because Shih Tzu are small doesn't mean they don't like to have a good time!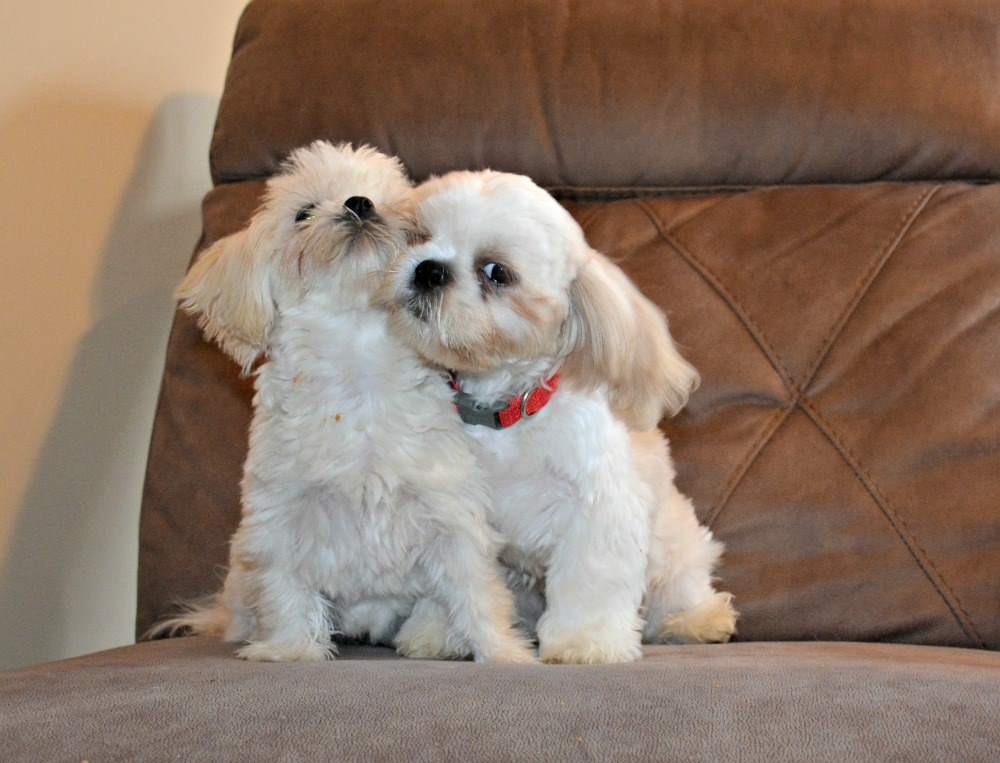 Living with a Shih Tzu:  9 Ways to Create a Tzu Palace
1. Reduce Grooming Stress with an In-Home Bathing Station
Many dogs who regularly visit a grooming salon seem to dread the experience even more than we do! Whether it's for a quick nail trim, a bath, or a full hair cut, grooming is one of those uncomfortable realities we deal with as pet owners. But it doesn't make it any easier to see our pups shaking with anticipation or fear when we pull up to the grooming salon every month.
Maybe your dog likes to play in the mud (they love to do this after an expensive groom, don't they?!), or maybe they love to dig and bury their most prized toys. Either way, dogs are messy and can often use regular bathing.
Additionally, Shih Tzu require frequent grooming due to their long, beautiful coats. Luckily, do-it-yourself baths at home can be a great option for maintaining your pup's coat in between grooming visits.
But instead of using your own bath and dealing with the mess that ensues, one cool alternative is to build a bathing station just for your pet! If you have a spare entryway, mudroom, laundry room, or even bathroom, you can create a personal spa just for your pet - without the stress of a busy grooming salon.
By using a small tub or bin and adding a pull-down showerhead, you can create a safe space for your dog's baths. Why not keep a bag of their favorite treats by their bathtub? By creating a positive bathing experience, with rewards and reassurance, maybe our Shih Tzu will be a little more comfortable with the process. And our groomers will appreciate that we're keeping up with hygiene in between appointments!

Living with a Shih Tzu: Create a Grooming Area
2. Bring the Beach to Your Backyard
During the dog days of Summer, it's a blast to bring your pup along for your family's beach trips and lake visits. Lots of dogs love to swim - including little dogs like Shih Tzu! They can be surprisingly good swimmers, and often enjoy a cool dip in a pool for the same reasons we do.

Shih Tzu and other dogs with shorter snouts sometimes have a harder time regulating their body temperature when it gets hot outside. Without proper consideration, these breeds can become overheated much more quickly than other breeds.

Giving your Shih Tzu an opportunity to cool down when playing outside can be as easy as setting up a doggy pool! At your local pet store, you can find pools designed specifically for daring dogs to splash around in. Or you can find a typical kiddie pool at almost any department or home improvement store.

Fill up the pool with a few inches of water - not too deep! Throw in some floating toys, especially if your pup loves to fetch. For safety, secure the pool with ties to ensure it doesn't topple over. Make sure to keep the water clean and free of debris.
Now your Shih Tzu can have their own private swimming hole all Summer long! Always supervise your dog when they're in the pool, and make sure to have some poolside snacks on hand.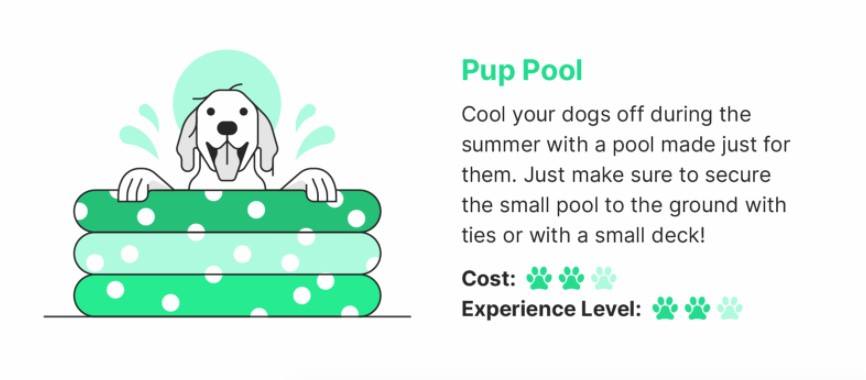 Warm Weather Living with a Shih Tzu: Give them their own pool.
4. Doggy Doors for Exploring and More
Does your Shih Tzu love rooting around your backyard? Lots of dogs love to sniff around, dig holes, bury their toys and snacks, and chase squirrels when they have access to a safe, enclosed backyard.
You may find yourself letting them in and out all day! Well, luckily there are some amazing choices for doggy doors that range from simple to high-tech.
A simple doggy door may be a flap that allows your pup access to and from your backyard whenever it strikes their fancy. Some high tech options include completely motorized doors operated by remote control! Both options give your pup the freedom to explore in a safe, supervised way.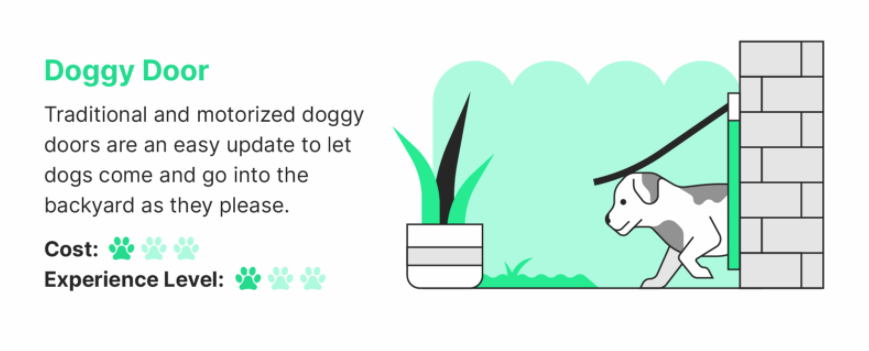 Doggie Doors make living with a Shih Tzu much easier.
5. Puppy Pantries Keep Food Organized and Fresh
Shih Tzu are notoriously picky eaters. What else would you expect of royalty? Not surprisingly, it is common for many small breed dogs to be picky when it comes to food. They all seem to have their own sets of preferences, and that can change day-to-day!
That's why it's so important to keep your Shih Tzu's food fresh and away from pests. Have you ever pulled out a can of food or a tasty treat for your pup, only to realize it expired half a decade ago? Some Shih Tzu seem to be able to sniff out stale food from a mile away. Setting up a puppy pantry will make sure your pup's food is fresh and organized.
If you have a low-sitting drawer in your kitchen, consider turning this into a hide-away feeding area! Keep your clean bowls stacked neatly and a scoop nearby for measuring portions, along with a rotating selection of treats, canned food, and kibble. With this dedicated feeding area, everything is ready to go when your puppy's tummy is growling.


Give your Shih Tzu his very own feeding drawer.
6. Warm Paws and Wet Noses
Depending where you live, you might dread Winter all year long. Snow days are great for cuddling on the sofa with a sweet Shih Tzu, and they always appreciate our body heat next to them!
But sadly, not all of us can spend our entire day on the couch with our best fur friends. Whether you work from home or just spend your weekends lounging around the house, you may find yourself cranking the thermostat. If you find that your feet get cold walking around your home during the winter, you AND your pup would probably appreciate upgrading your flooring with heated tiles!
Heated tiles are a popular choice in colder climates, especially in bathrooms where we are often barefoot, But for your Shih Tzu, a heated floor could become the next big napping spot! Easy to clean and temperature-controlled, heated floors will not only improve your quality of life, but your Shih Tzu will thank you, too.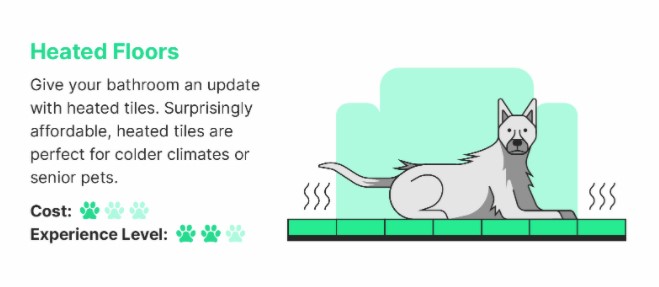 Heated floors makes living with a Shih Tzu so easy and a big bonus? Your floors dry twice as fast after mopping!
7. Stairway to Cuddles
It's no shock that small dogs like Shih Tzu sometimes have difficulty jumping up onto our couches, beds, or up a long staircase. Since many Shih Tzu live long into their teen years, it is important to look after their bone and joint health starting at an early age.
To help ease the stress on their joints and help them reach areas that are too high for them to jump to, you may want to consider installing a few pet ramps. If you like to have your Shih Tzu sleep in bed with you at night but worry that they can't get up or down for food or the potty, a ramp can ease your stress. Your pup will gain independence as well, so you won't have them barking in the middle of the night for a cold glass of water!

Ramps and doggie stairs make it easier for your older Shih Tzu to maneuver furniture.
8. A Home Away From Home
Dogs like Shih Tzu often love to have their own space away from the noise and action of your home. Some owners will provide their Shih Tzu with enclosed beds, crates, or even their own room!
An easy way to provide your Shih Tzu with their own private condo is with a dog house! A dog house can be dressed up or down to suit your pup's needs. Some are insulated to keep your pet warm on chilly days, and they provide excellent shade on sunny days of play. Make sure to fill their house with plenty of toys and blankets, so they know they're always at home when they're with you.
9. Let's Go for a Run!
Dogs bring energy to any situation, and save their leftover energy for playtime with you! Especially when they are puppies, dogs like Shih Tzu can sometimes bounce off the walls if they don't get enough exercise. Additionally, inactivity and weight gain are particularly harmful for small breed dogs.
Exercise is important for all of us, so why not give your pup an outdoor space where they can run to their heart's content? Pick your Shih Tzu's favorite backyard spot and install some fencing.
Ta-da! Now you have your own private dog park in your backyard! Set up some ramps, a doggie pool, and collect some fun toys to keep your pup busy.
A dog run also comes in handy when you're doing yardwork or hosting a party and want your pup to be secured and out of the way.
Feeling Inspired?
There are so many amazing ways to enrich your Shih Tzu's life in your home. While they may be plenty fulfilled and happy just to be at your side, all of these suggestions will keep your pup's life interesting and exciting for years to come! Read more about these dog upgrades thanks to the team at Hippo.

Living with a Shih Tzu Author Bio
Sarah Hollenbeck is a writer and animal lover from Austin, Texas. She's known for filling her social media feeds with adorable pictures of her cat, Oille and her dog, Otis. You can often find her taking her dogs on long walks in the park or cuddling up with her cat on the couch!