Miracle Shih Tzu Magazine

We've created the All New Shih Tzu Magazine, "TZU TIPS" for anyone who loves this breed. 
Whether you're looking to get a new puppy, adopt a rescue or already own one (or more) Shih Tzu dogs, this is for you. 
We'll be covering the life span form the moment of conception, the homecoming, puppy-hood and adolescence, through adulthood to the beautiful but painful end of days. 
We hope you'll join us.

Best of All, It's Free

Each month, we deliver a new edition to your mailbox.  You'll find plenty of useful information, fun stuff, surveys, freebies and more.
Each newsletter will cover a different theme, all related to the Shih Tzu, but that's not all.  Newsletters will keep you up to date on what's happening ; birth announcements, future plans for mating, contests, surveys, and more.
Maybe you just want some fun ideas to keep your Tzu happy or maybe you'd like to try a homemade recipe or even get some hints about photographing your Shih Tzu.  There will be something for everyone, so don't hesitate to sign up. 
Remember it is Free.   If we add something new, write an e-book or develop an e-course, you'll be the first to know!
If you love your Shih Tzu dog as much as we love ours, this newsletter will help grow your bond and make life with your little pooch so much more rewarding.  We'll be covering:
Grooming Tips
Health Concerns of the Breed
Training Issues and Solutions
Feeding Problems and Recommendations
New Birth Announcements
Product Reviews
Breed News
Fun Things to Make and Do with Your Shih Tzu

and So Much More
But, wait, there's more
Are you considering adding a Shih Tzu to your family?  We have a freebie you won't want to miss.
"30 Days to a New Puppy"
In this brand new e-book, you'll follow our step by step guidelines for finding and preparing for your next best friend.  I'll walk you step by step through the process of finding a breeder or rescue, choosing a breed or gender, establishing a doggie budget, picking out a puppy, researching dog professionals you will want to consider, to learning how to train, groom, name, socialize, puppy proof and travel to get your new puppy. I even add a section on the most important supplies to obtain for a new puppy and those supplies that can wait until the puppy is older.  A complete guide, and it is totally FREE.
Don't worry, your email is safe with me.  I only use it to send you the monthly newsletters and the occasional special edition.

The Person Behind this Website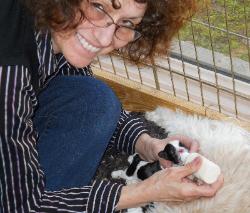 Hi, I'm Janice and I'm the person behind this website.  I am also a Shih Tzu Breeder who has loved this breed since my first puppy purchased in 1979. 
There has never been a long period where we didn't own one or more Shih Tzu Dogs.  Over the years, I have learned a thing or two about the breed and hope to share some of that knowledge with you.  You can read more about my family here.