10 Best Shih Tzu Haircuts & Styles in 2022
Shih Tzu Haircuts     by Myrah Abrar      |Updated 09-10-2022
Those who own a Shih Tzu will be able to style their dogs' hair in a variety of interesting ways.
Shih Tzu have significantly different haircuts. There are plenty of ways to style the hair on these dogs, as their fur is extremely long. Most Shih Tzu owners go to great lengths to provide their pets with something special.
Your pet should look good regardless of whether it is a show dog or not. Look at other people's examples of how they have used their pets' hair if you are stuck for ideas. It is surprising how much fun can be had by playing with the coats of dogs.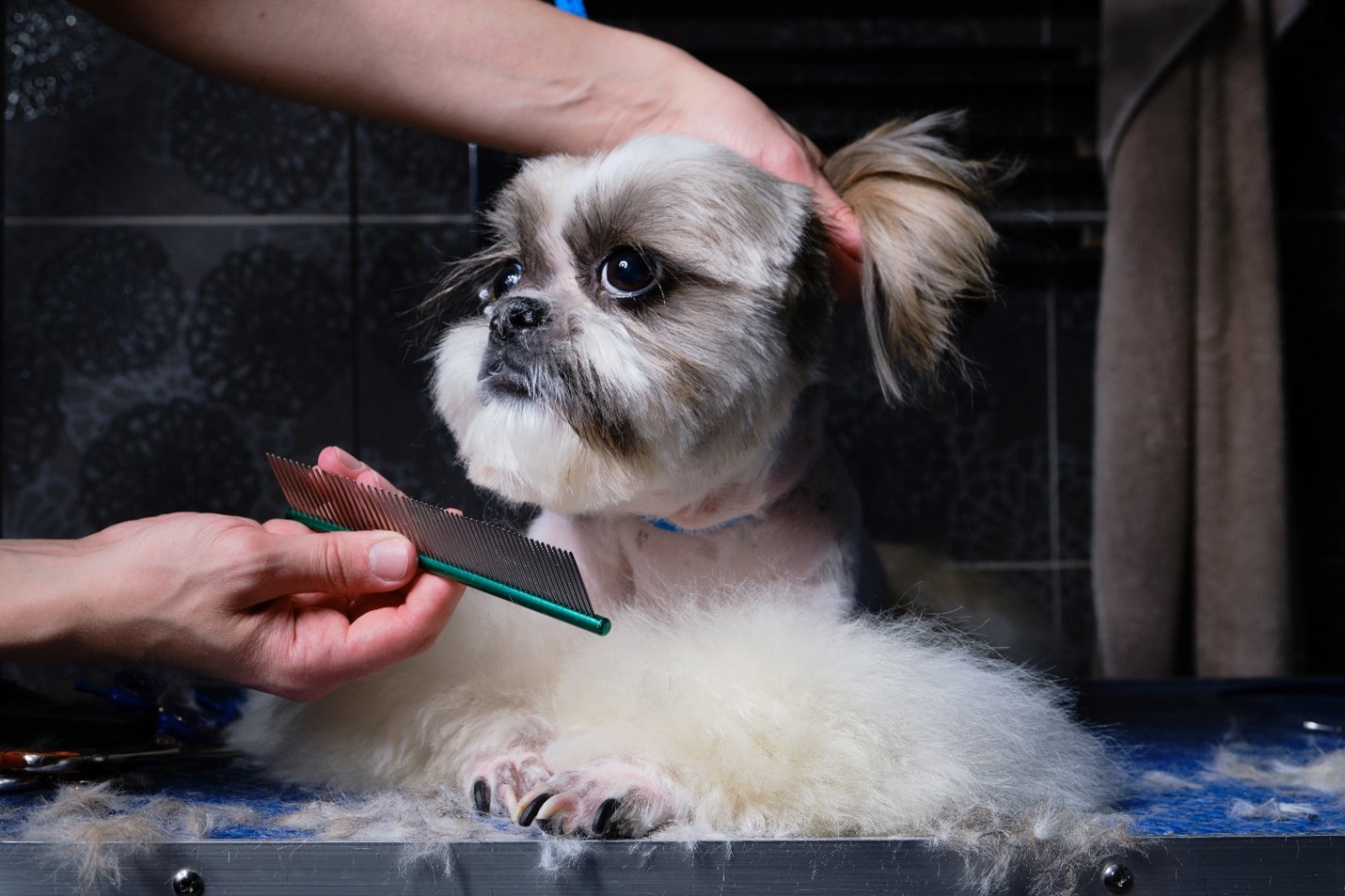 Shih Tzu Haircuts
Let's take a look at some of the best haircuts that can be given to Shih Tzu dog breeds.

10 Best Shih Tzu Haircuts
Haircuts for Shih Tzus can make your dog look absolutely stunning. There are a number of options for hairstyles, such as short, long, medium, traditional lions, ponytails, braids, etc.
There appears to be a purpose behind the long coats, namely to facilitate grooming experiments. Dog owners tend to use professional groomers to style their pets' coats.
As long as the dog is ready to sit still, it is possible for you to give him some haircuts on your own. Check out the below Shih Tzu haircuts to see which one best suits your puppy.
1. The Puppy Cut
This is an extremely popular haircut for Shih Tzu. Cuts such as this are easy to make, easy to care for, and excellent for warm weather. All hair must be trimmed so that the length of the hair is between 1-2 inches in order to create the Puppy Cut. 
In most cases, it is closer to 1 inch. As a result of this trim, you will require less maintenance for the coat, and there will be less hair on your property.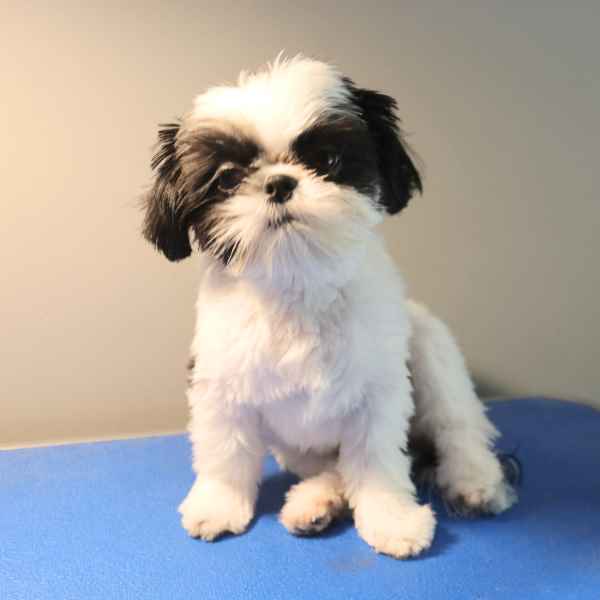 This is our Beau sporting a Puppy Cut
2. Long Ear Puppy Cut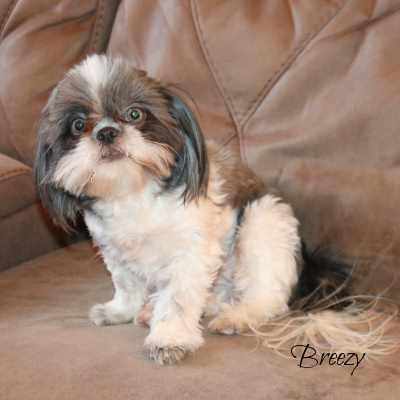 Breezy in The Long Ear Puppy Cut
This haircut resembles the Puppy Cut, except the ears are left with the hair long to give them a more rounded look. In spite of the fact that this is a slightly more feminine style than the last one, it is still appropriate for summer.
3. Striking paws
Shih Tzus would look great with this semi-lion hairstyle. Much of the coat is shaved short. Paws are styled in a manner that creates an impression of small cones. Compared to the very long one, this haircut is easier to maintain, but it still looks great.

4. Girly look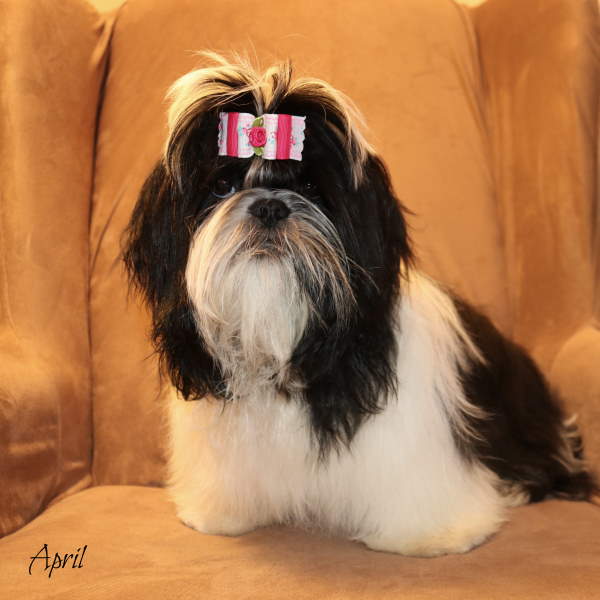 Here is our April wearing a girly-girl bow
Your Shih Tzu doesn't have to look girly with braids and ponytails. Maintaining long hair in a neat and tidy manner is as simple as this. Keeping the hair of your dog neat and clean can be a challenge if the animal enjoys playing in the dirt. A ponytail can help alleviate this problem.
Learn more about how to give your dog a haircut.
5. Cone Paws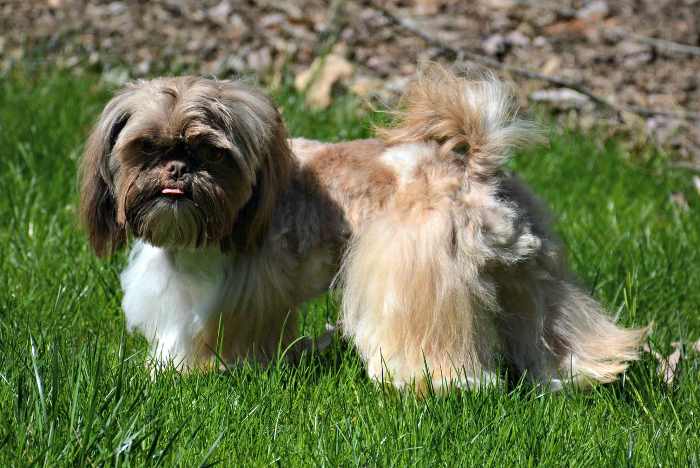 Here's Doc, one of our retired Sires in a cone paw haircut
A Cone Paws haircut involves the removal of the hair around the body while leaving hair on the legs, tail, and head. The legs are then styled to resemble cones. It is a beautiful hairstyle that provides the dog with a cute horse-like appearance.

6. Teddy Bear Cut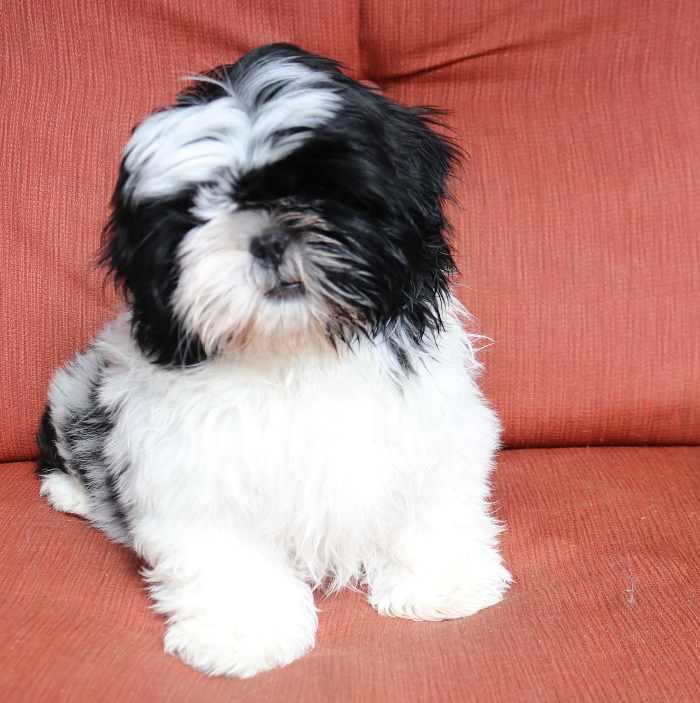 Here's April in her Teddy Bear Cut
Teddy Bear Cuts are confined to the shape of the head and do not affect the hair on other parts of the body. Interestingly, the Teddy Bear Cut may be observed on both short-haired and long-haired dogs. 
In this cut, the Shih Tzu is trimmed so that the characteristic bearded appearance is lacking, which gives them an adorable appearance similar to that of a bear.
7. The Full Shave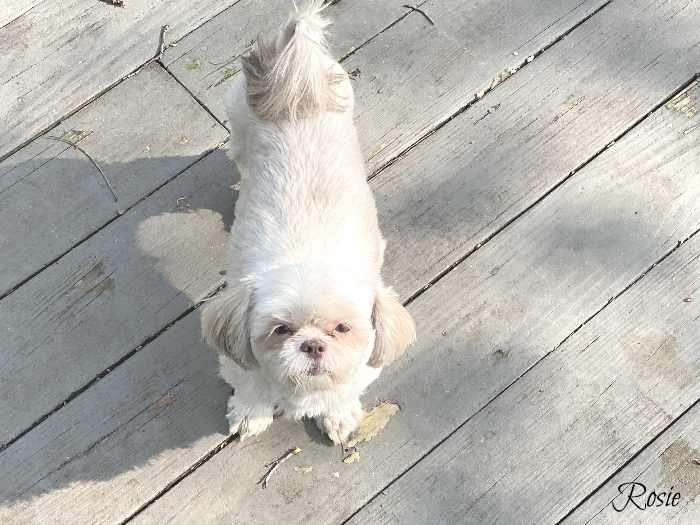 Our Dam, Rosie is looking sharp in her shaved down haircut for summer.
Shaving your Shih Tzu's hair all the way to the skin, as its name implies, is the full shave. You should avoid shaving your Shih Tzu completely bald, however. Protect your pup against heat, sun, wind, and cold by leaving about a fourth inch of hair around him.  If you are a DIY, this cut will require a size 7 or size 10 clipper blade.

8. Japanese Cut
Japanese cuts can be classified in various ways, but all of them follow the same protocol. Do not clip the legs too short, and do not make the ears too long.
The particular name is due to the fact that this style has become very popular in Japan. Depending on the species, the legs may be rounded, triangular, or a combination of these two. Its tail may appear long or fluffy.
Learn how to train your dog to get a haircut. 
9. Practical Top Knot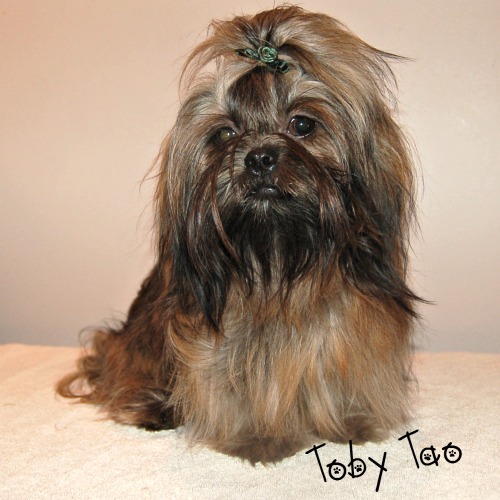 Our Top Dog, Toby, wearing is long coat and sporting a practical top knot: Shih Tzu Haircuts
Another popular summer and winter dog haircut is called the Practical Top Knot, which only affects the dog's head without affecting the rest of his coat. It consists of leaving the hair hanging on the top of the head and tying the bow around it. After that, allow the hair to cascade down the back of the head.

Get creative with some cute clips, ribbons, or barrettes for your Shih Tzu Terrier Mix to bring out the animal's true personality. You may trim the remainder of their hair to whatever length you desire. 
Although 1 inch is likely to be the minimum. It is advisable not to allow their hair to fall into their mouths or eyes; this could be uncomfortable.
10. Shih Tzu Haircuts:  Lion Cut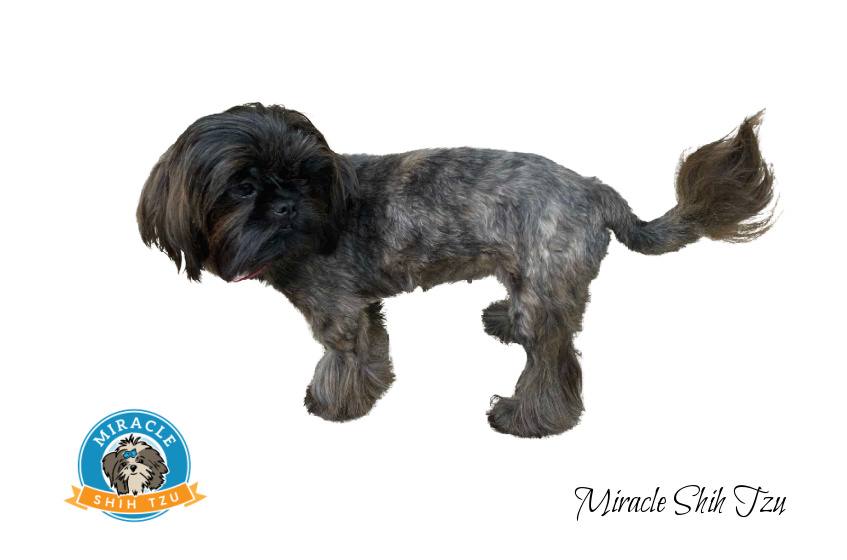 This is our sweet little Ruby, trying to look like a lion. Now it's time for her to practice that Roar.
The unique style that emphasizes the hair around the face will allow your dog to transform into an adorable little lion. Approximately 1 1/2 to 2 inches of fur is trimmed from the body, with a lion-like cut around the head and face.

You may simply clip the body every four to six weeks with clippers, or you may leave the grooming to the professionals. You will have a low-maintenance haircut that will keep your non-ferocious dog looking chic at all times. 
This cut is ideal for summers and warm weather. 
Shih Tzu Haircuts:  Pin for Future Reference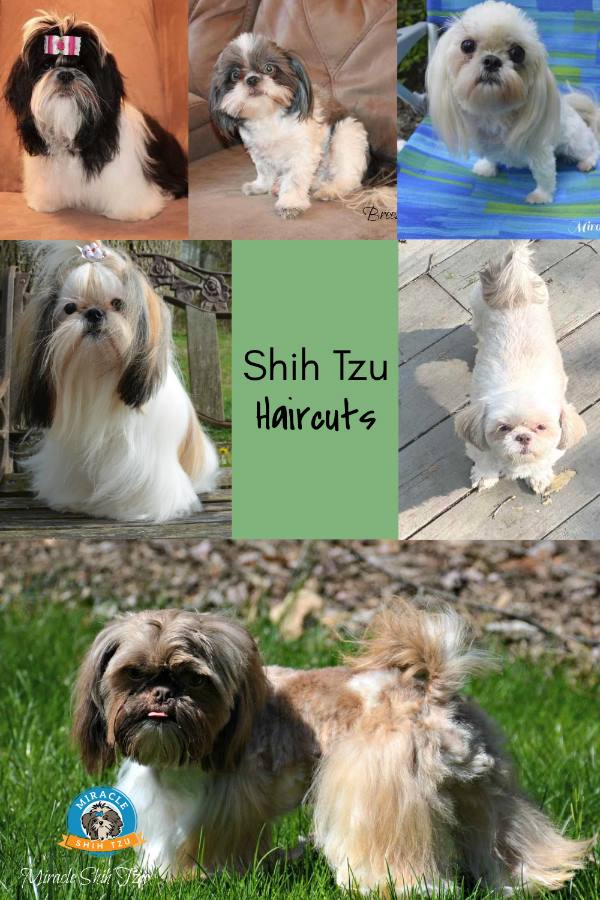 Final Thoughts on Best Shih Tzu Haircuts
We have listed some of the best haircuts that you can apply to your Shih Tzu. Shih Tzu need special care since they have long hair; the coat of a Shih Tzu should be trimmed after they turn three months old.
It is more comfortable for the dog to have shorter hair. It is, therefore, necessary to train it how to behave while it is being groomed as a puppy. Ensure that your dog is not afraid of the scissors before giving him his first haircut.
Teach your Shih Tzu the sound of scissors snipping from a young age. This way, the dog will not be fearful of the sound when you begin the cutting when you do this a few times a week
P.S.  The Bad Hair Day
Poor Lucy is not having a good hair day. Lucy is one of retired dams and looks much better these days.
Now That Your Shih Tzu Has Had a Haircut, It's time to Capture That Look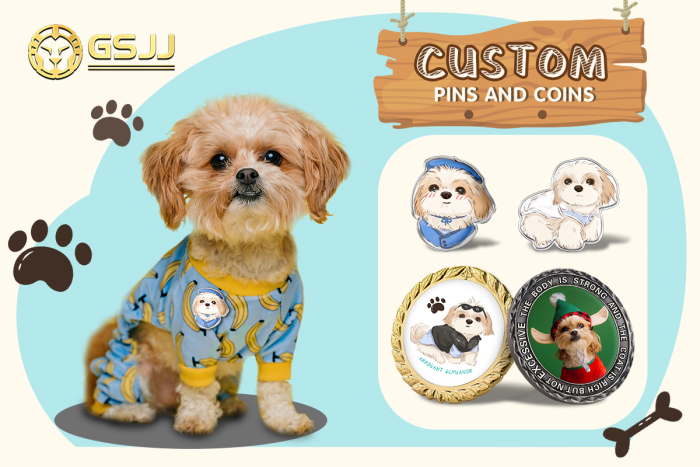 You must be proud that you have a beautiful Shih Tzu, and I am sure you have a lot of pictures in your photo album. Why not make pins of these photos? I suggest printing pin ! These pins are free to customize.
I like to wear my dog pins on my hats and bags or give them to my friends. You can also make a challenge coin for your dog on his birthday as a memento of your companionship with each other, and as year after year passes and you look at these challenge coins, they are full of memories!
Author Bio
Myrah Abrar is a computer science graduate with a passion for web development and digital marketing. She also writes articles on dog-related website content.