Shih Tzu Ear Cleaning Video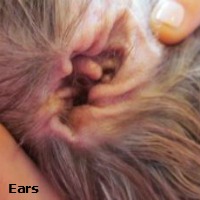 By Janice Jones     |Last Updated February 10, 2020
If you've gone the D.I.Y. route, this Shih Tzu ear cleaning video will help show you how easy it is to do this task at home. 
Of course, you can use what you learn on any dog breed, but is especially helpful for all those dogs whose ear hair continues to grow. 
Most dogs do not like having ear hairs pulled from their outer ears, so they must be conditioned and train to stay still while you remove a couple hairs at a time. 
A few good treats, lots of praise and a few human hugs and kisses will help even the most resistant of dogs. 
The videos on this site are also available on our You Tube Channel and we encourage you to subscribe to our channel so you will be notified whenever we post a new video. 
Please let us know if this was helpful to you. 
Also, please let us know if other how-to videos would help make your life a little easier with your little fur baby.
For more information on how to care for your dog's ears, click here to view our Shih Tzu Ear Page.
Watch our Ear Cleaning Video

Summary

Clean ears before the bath
Apply ear powder to ear
Use your fingers to pluck a few hairs at a time
Use a good ear cleaner after removing hair
Use cotton balls or cotton tipped applicator to remove debris
Observe and examine ears for infection:  If ears appear red or inflamed, make an appointment with your vet

---
We hope that the ear cleaning video helped.  If you need supplies to help make this task easier, consider the products below.  These products are available from Amazon and you can purchase them directly from this page by clicking on the image.  Any purchases you make from this website helps support the costs associated with keeping it running and up-to-date.
All products featured on this and other pages on our site are ones that we have tested, used and like.  We only recommend products we have used or are currently using.  But, just because a product works for us does not mean it will be perfect for you.  We appreciate you.

Useful Ear Cleaning Products

Ear Powder


I always add a small amount of ear powder before attempting to remove hairs.

It provides just enough friction to allow me to pluck hairs out by my fingers, but also makes removing hairs with a hemostat much easier.


---

---

Hemostats

Once you've added a little powder to the ear, you can normally pluck out hairs using your fingers.  If you don't want to use your fingers, a pair of tweezers or hemostats works very well.  You will want to assure that your dog holds still, as it is easy to grab a bit of skin instead of hair in a squirmy puppy or adult dog.   

Hemostats are useful for other things like removing ticks so they might make a good addition to your grooming box.


---

---

Ear Wipes


I love these little ear wipes for a quick clean up when the dog's ear doesn't require a full cleaning.


---

---

Ear Cleaner


I have used several ear cleaners and the two that I like the most are shown to the left.  Pro Ear is a cleaner recommended by groomers and is perfect for removing excessive ear wax and leaving the ears smelling fresh and clean. 

The foam ear cleaner was recommended to me by my vet and is good for cleaning excessive wax especially wax that is deep into the ear in places you can't reach.  It is especially useful for dogs with chronic ear infections.

---

---

Scissors

If your Shih Tzu's ears do not have hair to pull, but have a lot of hair around the opening of the ear canal, you can clip a few hairs instead of pulling the hair.

This little pair of scissors can also double for clipping around the eyes and removing hair between the paw pads.

---